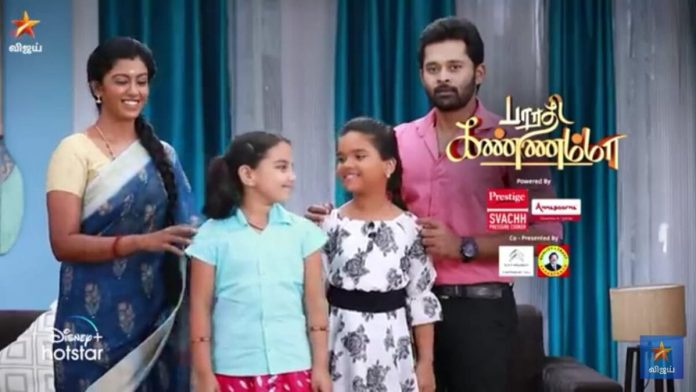 Bharathi kannamma 23rd June 2022 Written Update on TellyExpress.com
The episode starts with Rohith, he plays song early morning which disturbs Venba's sleep. Venba lashes out at Shanthi for disturbing her but she denies it. Rohith prays god to help him to impress Venba and make her fall for him. Venba notices Rohith there and says this joker turned her home into temple. Venba demands Rohith to stop doing this all. Doesn't he know to pray silent. Rohith tells her that he has an big request to god that's why he is doing this all. Venba demands him to say his big wish.
Rohith adds that he wanna get place in Venba's heart that's why he prays to god. Venba pushes Rohith's hand when did he tries to apply vermilion on her. It's falls on him so he takes it as good sign. Venba gets irritate to see his attitude.
Sundara Raman and Janaki reaches to hospital. He informs to receptionist that they are here to meet Vickram. He asks her to inform him. Vickram comes there and meets them. He enquires about her health condition? Sundaraman tells him that he can't able to attend the inauguration function. His wife is sick sowax he is thinking to admit her in hospital.
Vickram introduces Kannamma to them as admin officer. He adds that Sundaram is his college professor. He won't take any decision without his suggestion. Vickram adds that Janaki has health issues so she might take care of them well. Kannamma informs him that Bharathi is on leave. So she canceled all his appointments. Kannamma takes them from there.
Bharathi takes Hema out. Hema asks him doesn't he has work to do today? He tells her that he didn't spend time with her last two days that's why he take leave today. Hema notices a mom feeding food to baby.
She misses her mom and shares to Bharathi that she needs a mom too. Bharathi complaints that she is talking like this recently. Whom teaching her to do like this? Hema asks him whom he gonna divorce? Don't divorce her mom. Bharathi asks him whom said this to her?
Hema reveals to him that she heard his conversation with lawyer. Her mom name is Kannamma so don't divorce her mom. Hema creates a scene in ice cream parlor and cries out of the blue making Bharathi sad. He tried her best to convince Hema. Later Lakshmi learnt from Soundarya how is Hema doing? She assures her that Hema went out with Bharathi.
Episode end.