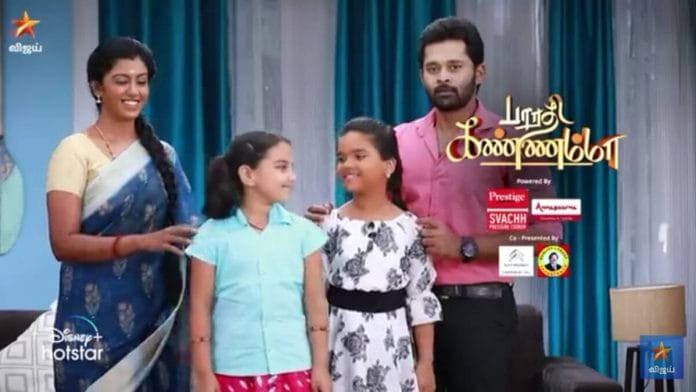 Bharathi kannamma 23rd September 2022 Written Update on TellyExpress.com
The episode starts with Soundarya appreciating Lakshmi's love for Hema. Kannamma reveals to her that Lakshmi aware of Hema's birth. She learnt that Hema is her twin sister. Soundarya questions her what happened? Kannamma narrates to her what happened in hospital? Soundarya gets emotional after hearing it.
Kannamma tells her that Lakshmi loves Hema as a friend but she learnt she is her twin sister now. Her love for her increased. Soundarya shares with her that she fears that Hema will find out the truth. When she comes to know Kannamma is her mother, she will hate Bharathi for hiding the truth from her. Kannamma consoles her. Soundarya tells her that she wants to cook for everyone. Kannamma shares with her that she will cook for them.
Akhil is admiring his son. Anjali asks him to fresh up. Akhil thank her for saving him by risking her life. He praise her love for him. Anjali tells him that he would have risked his life to save her. Stop comparing their love. They spends quality time with each other. Meanwhile, Bharathi asks Soundarya to give food to him. He wishes to take dinner together with his family members.
He adds that he doubted whether he get a chance to eat like this again when he was in hospital. Soundarya said to him that Kannamma cooked for everyone today. Bharathi tells her that she was also struggled a lot in hospital. What's the need to trouble her again. Soundarya assured to him that Kannamma cooking for everyone in her wish. Kannamm brings food there. Bharathi advised Akhil to take medicine on time.
Bharathi asked Soundarya about menu? Soundarya mentioned Uppuma to him. Bharathi gets frustrated hearing it. Lakshmi tells her that she wishes to eat something delicious but she cooked Uppuma. Bharathi supports her. Soundarya complaints that Bharathi likes Uppuma. Hema adds that she likes Kannamma's cooking. She will eat it without complaining about it. Kannamma serves vegetable rise to everyone. Bharathi likes the taste and appreciate it. Soundarya asks Kannamma to eat with them. She helps Bharathi to drink water. He thank her. Soundarya thinks that it's a good change. He chanted after the terrorist attack.
Soundarya asks Bharathi to change his mind. She shares with him that he have many misunderstanding with Kannamma. She is not coming into that topic again. But Kannamma worried for him a lot then her when he was in Terrorist custody. She risked her life to save him. She was ready to die with him. Doesn't he understands her love for him? Why don't he accept her again? It's a rebirth to him.
Soundarya advised him and leaves. Bharathi noticed Kannamma spending time with Hema and Lakshmi. Hema tells her that she is staying here first time. Kannamma tells her that she stayed here after many years. Kannamma manages to lie with her. Hema tells her that she will pray God to let Kannamma and Lakshmi stay in her house permanant. Bharathi gets emotional hearing it.
Episode end