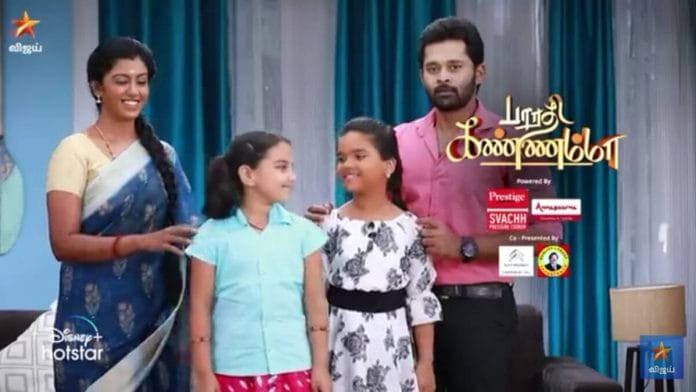 Bharathi kannamma 24th January 2023 Written Update on TellyExpress.com
The episode starts with Kannamma returning home. Her conscience comes there. She praises her song. She teases her by helping him recall his past. She adds that she saw her love for him in her eyes. She started loving him again. She helped him to bring back her memories. She will forgive him and accept him back in her life. Kannamma denies it and shouts at her in anger. Her conscience vanishes from there. Kannamma thinks that she won't forgive him. She is going to live with her daughters.
Meanwhile, Ganapati says to Soundarya, let's recreate old incidents to bring back his memory. We shouldn't give up on this matter until he gets his memory back. Anjali tells him that the doctor said the same. Ganapati says to Kannamma that she has an important role in it. But she was standing quiet there. Kannamma agrees to help them. Ganapati is determined to bring back his memory. Meanwhile, Ganapati takes Bharathi to Akhil. Akhil tells him it's his car.
The doctor informed him that Bharathi may have lost his memory. But he won't forget his skill. He is able to drive his car well. Akhil gave his car key to him. He asks him to drive it. Bharathi takes his car and leaves from there. Kannamma stops his car and asks for a lift. Bharathi hesitates to give a lift to her. Kannamma lies to him that she has an important meeting. Bharathi offers a lift to her. Kannamma tells him some sound disturbing her. Bharathi tells her that she isn't wearing her seat belt. Kannamma lies to him that it's the first time she has been travelling in a car. She couldn't wear a seat belt. Bharathi helps her to wear the seat belt.
Bharathi recognises her as Kannamma. He mentions her name and faints. Kannamma worries about him. Meanwhile, Ganapati and Akhil make faces, noticing Bharathi's state. He forgot everything again. Ganapati introduces Bharathi's family members to him. Bharathi gets emotional seeing Soundarya. Soundarya hugs him. Ganapati comments that he is repeating the same incidents. He adds that he will forget his own name if he continues like that.
Ganapati shares with Akhil that Kannamma is trying hard to bring back Bharathi's memory. Akhil adds that Bharathi is forgetting everything after he faints. How will he stop him collapsing? Anjali fears that Kannamma may stop helping them. She is controlling her anger. Ganapati tells her that they need her help in this situation. She shouldn't back off from her decision. Later, Soundarya cooks Uppuma for Bharathi. He refuses to eat it reasoning he doesn't like it. Soundarya tells him that he likes Kannamma's cooking. He inquires her who Kannamma is? Soundarya calls her there. Bharathi is surprised to see her. He faints after he encounters her.
Kannamma's conscience comes there and mocks at her. She keeps irritating Kannamma. She adds that Bharathi is pouring out his love on her. Kannamma feels his closeness. He fell in love with her again. Kannamma denies it and refuses to accept her feelings. Kannamma says that she has mercy on him. She won't accept him. Later, Hema and Lakshmi share their grief with Soundarya. She consoles them. She assures them that he will be alright.
Episode end