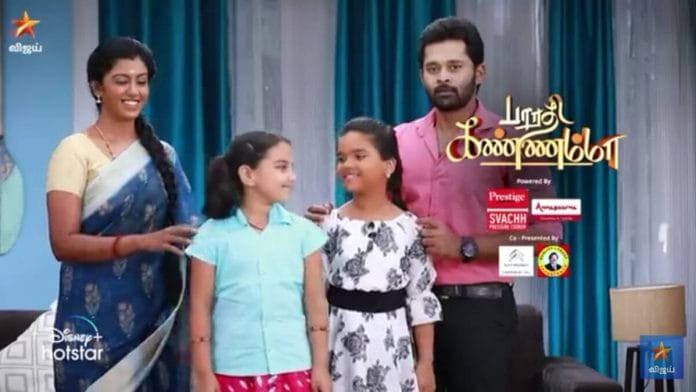 Bharathi kannamma 25th January 2023 Written Update on TellyExpress.com
The episode starts with Ganapati consoling Soundarya that Bharathi will recall his past. Akhil arrives there. Ganapati asks him did he collected the letter? Akhil informs Soundarya that Venu called him yesterday to collect Bharathi's letter. He got a chance to study at New York Medical University. He is able to work there as a heart surgeon. Anjali tells her it's not an easy job. It was a proud moment for him. Akhil says that he is able to study there by working part time. It seems Bharathi applied for it early. It reached our hand after processing. He doubts how he will explain Bharathi's condition to them? Soundarya takes that letter from him. She wishes to meet Kannamma and inform her about this.
Later, Kannamma meets Soundarya. She inquired her where she was going? Soundarya tells her that she wants to share one important thing with her. Bharathi got a chance to study at New York medical University. Only three people got this chance in India. If Bharathi fails to recall his past, then this letter is just a paper. No use of it. She tells her that Kannamma is able to help him bring back his memory. Tomorrow is Bharathi's birthday. She requests her to gift his memory as his birthday gift. She assures her to send him to New York once he gets back his memory. He won't disturb her anymore. Later, Ganapati shares his master's plan with Akhil. Bharathi comes there searching for him. Ganapati shares with Bharathi that he is married. Bharathi is shocked to hear it.
Ganapati lies to Bharathi that he fell in love with Kannamma without meeting her. He shares Ajith's movie story with him and lies that it's Bharathi's love story. He marries Kannamma secretly and hides the truth from his family. Bharathi is shocked to hear it. Ganapati lies that he forgot everything after he met with an accident. Maybe that girl is waiting for his call. He calls Kannamma and talks with her. He shares with her that he forgot everything after he met with an accident. Ganapati informed him about everything now. Kannamma pretended like she was shocked to hear it. Bharathi wishes to meet her. Kannamma assured him that she will meet him tomorrow. She will give the best gift to him for his birthday. It's a surprise. Bharathi is excited about meeting Kannamma.
Later, Kannamma asks Lakshmi to read the newspaper loudly. Hema and Lakshmi do not read it well. Kannamma complaints that they need reading practice. She advises them to learn how to give respect to elderly people. They shouldn't talk against them. They shouldn't be stubborn in their decisions. She takes classes with them. Meanwhile, Ganpati notices Bharathi is lost in his thoughts. He fears that he will forget everything again. But Bharathi is dreaming about Kannamma. He is excited about meeting her.
Episode end.