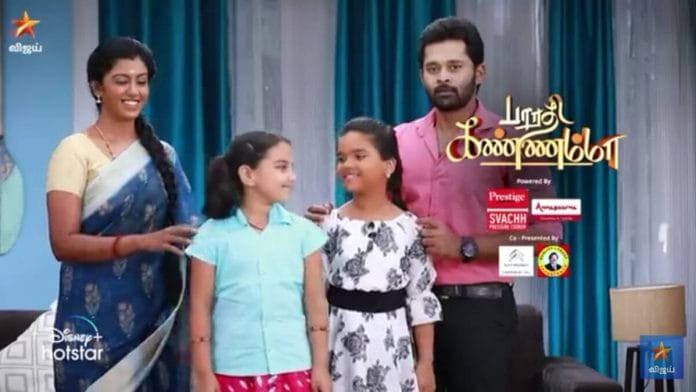 Bharathi kannamma 25th June 2022 Written Update on TellyExpress.com
The episode starts with Hema, she requests Bharathi to promise her that he won't divorce. She asks Soundarya to tell him to do it. Bharathi promises to Hema surprising everyone there. Hema hugs him in happiness. Family members are on cloud nine after hearing it. Bharathi asks Hema to amswer his questions. He has no idea why did she behaving like this.
Hema's mom died she won't return to his life just remember it. Kannamma gets emotional hearing it. Bharathi thinks that everyone made Hema as a trump card and playing with his emotions. She made him promise that he won't divorce her. He is a fool to believe them. Lakshmi comes there and ask him doesn't he like her?
When did he returned to home Kannamma pampered Hema but he didn't mind her not even talk with her. He seems don't like her presence here? Don't he like them visiting his house? Bharathi tells her that he was in some other tension that's why he behaved like that.
Lakshmi asks him to clear her whether he likes her or not? Bharathi tells her that he likes her. She asks him Is he like her mentioning him as doctor fatter? He nods with her. She asks her Is he like Lakshmi the way he like Hema? He clears to her that both Hema and Lakshmi are same to him. She says I Love you to him which makes Bharathi happy. Lakshmi leaves from there to play with Hema.
Kannamma comes there after her. She thank him for everything. He clears with her don't ever imagine that he will live with her. He has his own reasons to stop this divorce. He done it for Hema. Hema won't sit quiet and search who is her mom if he give divorce and ends up believing she is her mom. Kannamma thank him and leaves.
Venba lashes out at Shanthi for helping Rohith. Doesn't she giving salary to her then why did she supporting him? Shanthi reveals to her that Sharmila whom threatened her to support him. Lawyer calls her and informs her that Bharathi demands him to withdraw the divorce case reasoning his daughter is adamant.
Venba asks him Is he kidding? Lawyer explains to her that he is sensitive and not strong in his decision. Venba asks him to don't withdraw the divorce case and drag it. Definitely he will divorce her. Shanthi provokes her against Bharathi. She calls to Bharathi but Hema attends the call.
Hema teases her. Venba demands her to give phone to him but she lashes out at her. Hema congrats her for getting married to Rohith and praises their jodi. She shares to her that Bharathi promised to Hema that he won't divorce anyone. Venba gets irks to hear it all. Later Kannamma and Lakshmi returns to home happily. Lakshmi shares her happiness with her.
Episode end..