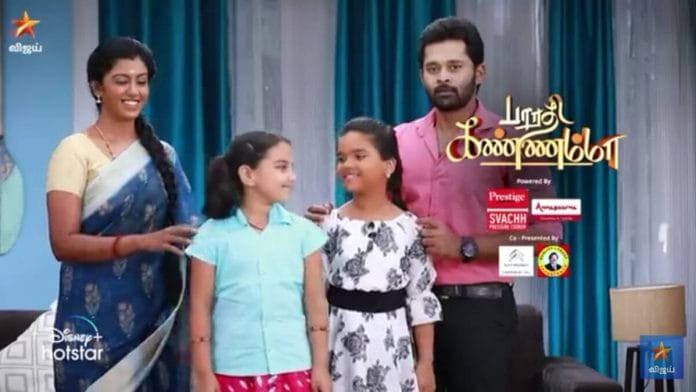 Bharathi kannamma 25th May 2022 Written Update on TellyExpress.com
The episode starts with Hema, she appreciates Bharathi for successfully finished his surgery. She adds that she feels proud when did he saved Sakthi's life on time. Her friends praised him a lot. Soundarya asks Bharathi to go and take food. They leaves from there Venu asks Soundarya why is she staring him like this?
. She shares to him that Bharathi is perfect man and has good heart but he is behaving weird with Kannamma only. If he accept her back then all problems will be over. Later Venba pretends like taking care of Sharmila and do hand massage to her. Sharmila asks her what's she expecting from her? Venba shares to her that she love Bharathi a lot so she don't wanna get married. She pleads with her to don't bring groom family here. Sharmila says to her that she may be fool but not her. How did she believed that Bharathi will marry her?
Even a small child can understand Bharathi has no feelings on her. If he wanna divorce Kannamma why should he praise in front of all? Venba says may be she is right but she don't wanna marry the person whom she select? Sharmila asks her to remind our deal in court. She warns her that she will see her another face if she go against her wish them leaves. Venba thinks let's see whom gonna win in it.
Soundarya calls to Kannamma and enquires her Is Lakshmi questioned her after she left from there? Kannamma nods to her. Soundarya questions her why didn't Kannamma informed to Soundarya that Bharathi is determined to divorce her?
Kannamma question her back what will she do after learnt it? Neither she can help her nor she can't able to stop Bharathi. Soundarya informs to her that Lakshmi said it to her. She praises Lakshmi's maturity in this young age. She assures to Kannamma that they will live together asap. Kannamma gets surprised to see Lakshmi there. She says to her that everyone's eyes on Kannamma today so she wanna take evil eyes from her.
Lakshmi adds that her face came in TV. Everyone are praising Kannamma and Bharathi a lot so she might take this evil eyes. Soundarya would have done it to dad but she has no one then her to do it. Lakshmi says that she shouldn't say she might behave according to her age. Kannamma nods to her.
Later Venba reminds her mom's word and gets frustrated. Venba thinks that she shouldn't wait a lot she might talk with him about it. Bharathi thinks why did Venba calling him in this midnight? She won't let him sleep if he don't attend the call. Venba congratulates Bharathi for his victory and lashes out at him for ignoring her.
Bharathi says that he was busy with his hospital work that's why he couldn't talk with her. Venba complaints that he is always keeping her in ignoring list. She brings Kannamma's topic there to trigger him. Venba scolds him for praised Kannamma in front of Media. She provokes him against Kannamma. Bharathi apologize to her and tells her she will be her true friend in his life. He narrates his situation to her.
Episode end.