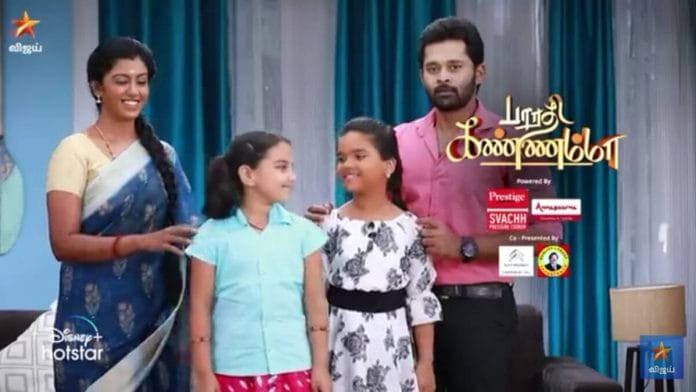 Bharathi kannamma 26th May 2022 Written Update on TellyExpress.com
The episode starts with Lakshmi, She complaints to Kannamma this fan is not working in this small house. If they stay in our Soundarya's house they wouldn't have struggle like this. Lakshmi demands her to give her phone she wanna talk with her dad.
Kannamma asks her to stop behaving adamant like this. Kannamma fears that Bharathi mat scold her. Bharathi doubts why did Kannamma calling him now? He attends the call thinking she gonna talk with him about hospital matter. Lakshmi congratulates Bharathi for completed the heart surgery successful. Kannamma feels relieve after hearing it. Bharathi thank her for her appreciation.
Lakshmi shares to him that she saw everything on TV, everyone are praising him as Hero. She tells him that she wanna give one gift to him for his victory. She gives kiss to him as a gift. She asks Kannamma Is she feard she may blabber all truth to dad? She nods to Lakshmi. Lakshmi assures her that she won't do like that nothing to worry. She asks her to give phone next time without fear. She leaves from there giving kiss to her.
Shanthi wakes Venba and asks her to get up soon. Sharmila comes there and questions her why did she sleeping yet? As a doctor she might get up early. Sharmila asks her to get ready asap groom family is coming to meet her. Venba pleads with her to stop this.
Sharmila demands her to forget Bharathi and get ready. Sharmila warns Shanthi that she might bring Venba out or else she will be punished. After she leaves from there. Shanthi pleads with Venba to get ready soon. Later Hema meets Lakshmi and informs to her that she got first prize for speech. Lakshmi congratulates her. Lakshmi says that as a sister she is so happy for her victory.
Soundarya comes there Lakshmi informs her that Hema got prize for her speech contest. Soundarya kiss Lakshmi in happiness. Hema complaints that she won the prize but she is kissing Lakshmi. Soundarya and Lakshmi are teasing Hema there. Soundarya shares to Hema that Bharathi will be happy if he learns about it. Later Sharmila welcomes groom family there. Sharmila asks Shanthi to bring Venba there. Sharmila praises Venba's beauty and thank her for cooperating with her.
Groom family appreciates Venba for being earth down. Groom family shares about groom to Venba. Venba says that she wanna talk with groom alone Sharmila denies it. Venba leaves to talk with groom. Sharmila fears she may ruin this. Venba pretends like she is a spoiler brat in front of Vignesh. Vignesh feels strange seeing her attitude.
Episode end.