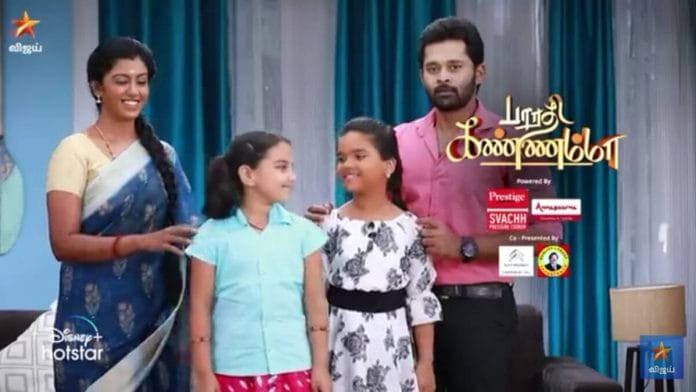 Bharathi kannamma 27th June 2022 Written Update on TellyExpress.com
The episode starts with Lakshmi, She shares to Kannamma that she is on cloud nine because Bharathi decided to don't divorce her. She asks her to pack sweets she wanna give this to all. After Lakshmi leaves from there Shanmuham comes there. He shares his happiness to her for Bharathi's decision. He adds that now only he got the confident Kannamma life will change. Lakshmi comes there which makes Shanmuham surprised. Kannamma shares to Lakshmi that she used to ask her who is he? Last time her circumstances didn't allowed her to inform the truth to her. Now Lakshmi learnt that Bharathi is her father. She introduces Shanmuham as Kannamma's father. Shanmuham pampers Lakshmi. She feeds sweets to him.
Later Venba is crying while complaining everyone betraying her. Is she look like fool to him? Doesn't Bharathi talked against Kannamma in court. She felt happy to hear it but he backed off from his decision to divorce Kannamma. She thought at least she expected to change Bharathi's decision after he got divorce. Venba adds that no one loyal to her including her mom.
Shanthi adds that her mom won't betray her. Only Bharathi cheating her. Doesn't Rohith loving her truly and doing everything for her. It's better to marry him forgetting Bharathi. Rohith comes there and sings situation songs for Venba.
Venba complaints to Rohith that he is irritating her a lot. Rohith tells her its not his intention but to advise her she shouldn't love someone blind and select good partner of her. Later Soundarya shares her happiness to her family members. Akhil adds that he thought this divorce matter would have created an big issue there but due to Hema everything solved well. Soundarya adds that Lakshmi used to request her that she wanna convince Bharathi. Hema comes there Soundarya pampers her. Hema asks them why didn't dad shares anything about her mom. Is she really died? Soubdarya says that only Bharathi can answer to her questions. Akhil too shares the same. Hema complaints that she asked them about it because Bharathi didn't answer her. Is her mom not alive why don't they perform her dad marriage with someone? She brings Kannamma topic there and asks them to arrange her marriage with dad.
Episode end
Also See: