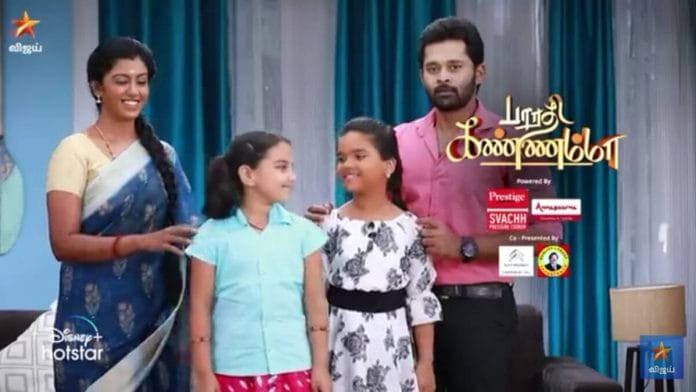 Bharathi kannamma 29th June 2022 Written Update on TellyExpress.com
The episode starts with Shanthi, she doubts whom called Rohith? Is he really a wrong number or his friend? He was talking with him normal. Venba notices her and enquires her what's bothering her? Shanthi informs her that she is doubting Rohith whether he is rich or fraud. Venba says that she already has doubt on him. Shanthi explains to her that she saw Rohith asking for 500rs.
On that day. Now she attended his call someone asking him to steal all the things from that house but he cuts the call hearing her voice. Venba scolds her for interrupted that call. Shanthi adds that because of Sharmila she didn't doubt him. May she is right or wrong. Venba adds that she is still doubting him and demands Shanthi to keep an eye on him. She thinks that he can betray Sharmila but he can't able to cheat her.
Sundar asks Bharathi Isn't his wife alright? Bharathi consoles him and assures him that he will update him everything after test. Sundar gets emotional there. Kannamma asks him why did he crying? Sundar shares to her that he was married to her 40 years. He took care of her well these many years. He never expected she falls sick.
Kannamma consoles him and assures him that she will be back normal. Kannamma feels bad to see his state. He asks about Janaki to nurse. She asks him to wait and leaves. Kannamma advises him to don't ruin his health. Kannamma admires their love for each other. Sundar says to her about wedding promise and how to fulfill it. He adds that whom sharing happiness and sorrow together can lead a happy life. Kannamma admires them.
Lakshmi notices Hema there. She asks her what's bothering her? Hema adds that she clearly heard Bharathi mentioning about divorce to lawyer. If he giving divorce means it might be to her mom right? So it means her mom alive somewhere else. Lakshmi too doubts the same. If Dad right then she wanna find out her mom photo at least. She is determined to find out who is her mom. Lakshmi thinks it's important to her to find out who is Hema's mother.
Rohith worries about his debt. He decides to ask money to Sharmila. He calls her she enquires him about Venba. Rohith assures to him that he will change Venba's heart. Rohith asks money to her. She assures to help him. Shanthi overhears everything. Rohith thank her in happiness. Later Shanthi shares everything to Venba.
Episode end.