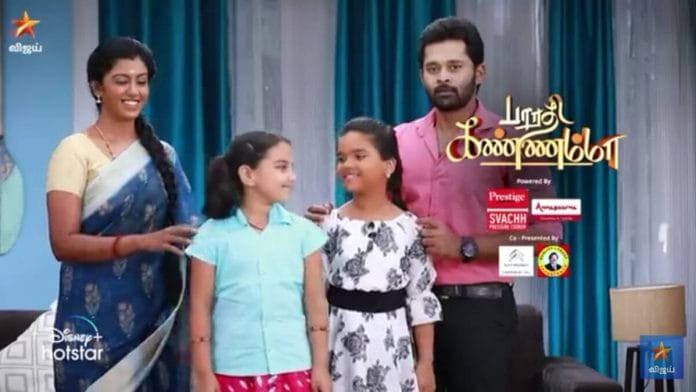 Bharathi kannamma 29th October 2022 Written Update on TellyExpress.com
The episode starts with Bharathi waiting for the DNA test result. He thinks that lab technician not understanding his situation. He is delaying his reports. Meanwhile, Venba is excited to meet Bharathi. She thinks that she escaped from the wedding hall cheating everyone. She calls Bharathi and informs him that she eloped from her wedding. She risked her life to escape from there. She asks him to go to temple. She already arranged everything in temple for their wedding. Bharathi gets frustrated bearing her.
Venba asks him where is he? Doesn't he reach to temple yet? Bharathi tells her that he isn't in temple. Venba asks him why is he playing with her? She is going to temple risking her self. But he is staying in home. Why is he getting late. Venba asks him Is he planning something else? She asks him to don't betray her. Venba complaints that he assured to wait for her in temple. She asks him to don't cheat her. She isn't able to bear another betrayal. She is doing everything for him. She is trusting him. Venba asks him to say something and reach to temple asap. If he don't leave from home then she will do rash driving and die here.
Bharathi asks her to stop taking like this. He thinks that she is asking him to reach to temple. He will get reports in 10 minutes. He tells her that temple is near by his home. That is why he isn't get ready yet. Venba asks him to reach temple asap. He disconnected the call. Meanwhile, Sharmila cries for Venba. Rohith's mom says to them that she ruined her son life. She said to everyone proudly that her son going to marry a rich girl. They advised her to don't go behind rich person. She didn't hear her words. Sharmila says that she doesn't expected her to betray her in this way. Shanthi thinks that she shouldn't act normal they will doubt her. She pretends like crying there.
Sharmila says to Kannamma that she alerted her but she didn't hear her words. She should have keep an eye on her. Soundary tells her that Kannamma said to her this marriage won't take place. She didn't give heed to her. Shanthi created a scene that she didn't expected her elope from the wedding hall. She pretends like praising Sharmila in front of all. Kannamma grows suspicious seeing her acting. Rohith and Kannamma are glaring at her. Shanthi says that she was happy to see Venba's wedding but she didn't expected her elope from her wedding. Kannamma comes near her and stare her in teasing way.
Shanthi gets nervous seeing her close to her. She asks her why is she staring her like ghost. Shanthi thinks that it seems she got doubt on her. Kannamma demands Shanthi to say what's bothering her? Kannamma asks her why is she crying? Shanthi tells her that she betrayed Sharmila. Kannamma inquired Shanthi about Venba? Shanthi pretends like she doesn't know anything.
Kannamma threatens her to say the truth. Kannamma slaps her in angry when she refused to confess the truth. Kannamm places knife on her neck and demands her to confess the truth. Shanthi informs Kannamma that she already planned to elope from the mandap. She reveals that Venba going to marry Bharathi in temple. Everyone gets shocked to hear it .
Episode ends