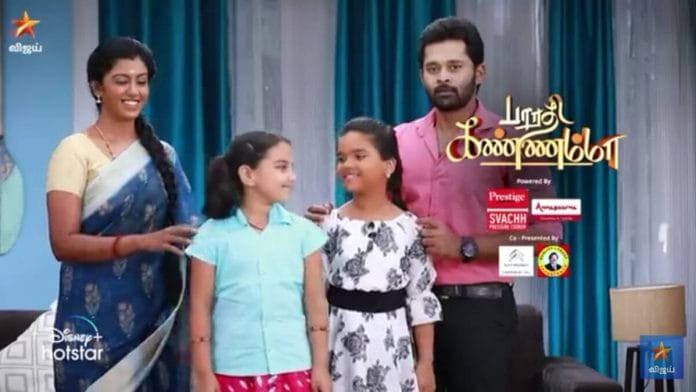 Bharathi kannamma 2nd November 2022 Written Update on TellyExpress.com
The episode starts with Soundarya questioning Bharathi why did he tried to marry Venba? She slaps him for staying quiet. Kannamma demands him to share the truth to his mom atleast. Bharathi apologize to everyone and accepts that he did a mistake. He doesn't take this decision without thinking. He had a reason for it. Kannamma asks him what's that reason. Let's see whether its a genuine reason.
They are in temple. They will judge his reason. Bharathi says to them that Venba was in trouble. That is why he agree to marry her. Venu demands him to explain the situation to them. Doesn't Venba has her own family to take care of it. Who is he to her? Soundarya demands him to say the reason. Bharathi reveals to them that Venba was pregnant. Sharmila asks Venba Is she pregnant? She nods with her.
Soundarya asks Bharathi, Does she carrying his child? Akhil badmouthing on Bharathi for betrayed Kannamma. Bharathi unveils that he wasn't the reason for her pregnancy. Bharathi shares with them that someone betrayed Venba when she attend a party. She demanded him to give his initial to her child because she doesn't want to abort her baby. She tried to commit suicide and threatens him to marry her. He agree to marry her without option. He wants to give his initial to her. Kannamma complaints that he isn't ready to accept his own child. But he is ready to accept Someone else child.
Kannamma shares with Soundarya that her son is a fool. Soundarya says that Kannamma's each words aching her heart. He is not able to accept his own child but he is ready to give his initial to someone else child. Sharmila says to Venba that everyone are insulting her daughter like that. How did she got pregnant? Who cheated her? Bharathi tells her that she isn't aware who did it to her? Rohith tells her that he know whom betrayed her? Venba lying to everyone that she doesn't know who cheated her. He is the reason for her state.
Sharmila asks him to explain her what happened? Rohith reveals to her that they did this mistake in an intoxicated state after engagement. She is carrying his baby. He doesn't know that she is pregnant. She didn't inform him about it. He feels ashamed to share it to everyone. That is why he hide this from everyone. Sharmila asks Venba what's going on here? Soundary says to her that Rohith accepted that it's his baby. That is why she is standing quiet there.
Bharathi asks them to stop it. Bharathi asks Venba how could she betray him? Doesn't she betrayed him? He trusted her a lot. He considered her as his friend. But she backstabbed him. How could she betray him like that. He adds that he believed her and decided to help her genuinely. He demand her to confess the truth. Venba says to him that he is her friend but she loves him a lot. Bharathi slaps her in anger.
Soundarya asks him to stop putting all blames on Venba and tries to portray himself as innocent. She asks him how could he take such decision without consulting with family members? He would have refused to marry her whatever the situation there? She asked him to give his initial to someone's child. He was ready to marry her. He would have asked her to wait and give divorce to Kannamma first. At lest he would have discussed with his family members about it. Rohith was ready to marry her. What's the need to go to this extend. Just understands the true color of his friend. Soundarya lashes out at Bharathi.
Episode end