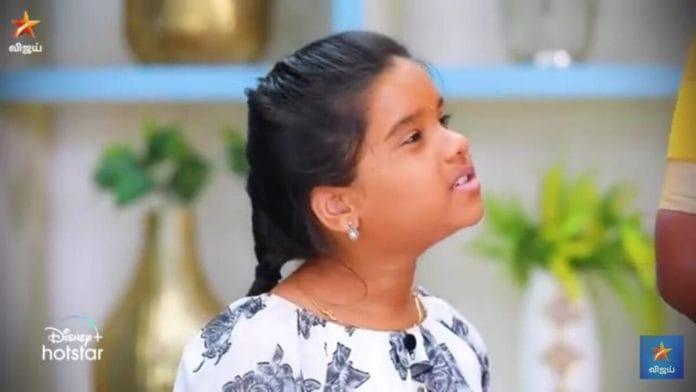 Bharathi kannamma 30th June 2022 Written Update on TellyExpress.com
The episode starts with Shanthi informs to Venba that Rohith is a fraud. He demands Sharmila to give money to Sharmila. Venba thinks that she might prove him as fraud with all evidence to her mom. Rohith gets happy to see the money credited. Rohith lies to Venba that he has one business meeting and leaves from there. Venba follows him behind to find out all the truth. Venba thinks that she will definitely find out whether he is a foreign Return or not today? She will put an full stop to his story. Rohith stops the car and pretends like check the tyre.
Shanthi alerts Venba that they can hide inside car but he knows well about their car. He leaves from there Venba follows him behind.Venba gets a phone call. She misses Rohith's car while talking in phone. Venba scolds Shanthi. She tells her its straight road so he will definitely went straight. Shanthi asks her what will they do now? Venba scolds her and determines to find out the truth.
Sundar asks Nurse when will result come? No one informing him about this. Janaki asks him to stop giving pressure to them by asking this often. If result come they will definitely show it to him. Soundarya and her family members comes to meet Janaki. Sundar praises Bharathi in front of Soundarya. She introduces Akhil to them.
Akhil takes their blessings and shares about his baby name to him. Vickram asks Sundar to give review about his hospital facilities. Sundar adds that Kannamma is taking care of them well. Janaki apologize to Vickram behalf of Sundar reasoning he is torturing hospital staffs. Sundar asks Vickram why didn't he marry yet? He tells him he is single.
Soundarya enquires Sundar about their kids? Sundar shares to them that as he wished they sent kids to foreign. They are settled there but they couldn't manage there. Now their life is so lonely. Even grand kids are not visiting India reasoning its so hot here. They are talking with them through social media help. Kannamma brings Hema and Lakshmi there. Soundarya introduces Hema as her grand daughter to them and hesitates seeing Lakshmi.
Kannamma introduces her as her daughter. Janaki adds that they looks like twins. Janaki feels happy to see them together there. Soundarya informs to them that kids visiting hospital after school. Janaki advises kids to make her parents proud. She had good times with kids there. Later Rohith meets Kili and gives money to him. He asks him to close the debt on his name. Kili alerts Rohith about the phone call.
Episode end.