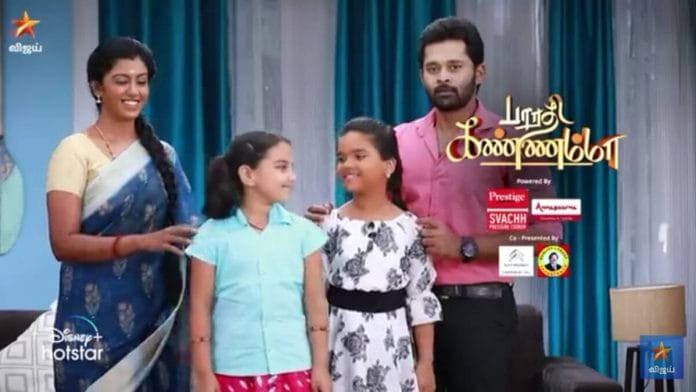 Bharathi kannamma 30th May 2022 Written Update on TellyExpress.com
The episode starts with Soundarya discussing about Lakshmi knowing the truth. Anjali comes there upset and Soundarya asks about it. Anjali says that it's a very important issue as Barthi and Kannamma's divorce case is again back to court and Kannamma is worried about it. She says more than her Lakshmi issues worried about about it. Akhil gets angry but Soundarya asks him to keep calm. Maid brings a letter to them and they reads to find that it's their copy of court notice. Soundarya gets upset so does others. Soundarya gets a call from Kannamma and picks it. Soundarya puts it on speaker to find its Lakshmi who's crying.
She says about the post from court and cries that if divorce takes place then they would be separated forever. Soundarya tries consoling her but Lakshmi pleads her to make her father understand to not give divorce. Soundarya assures to speak with him and asks her to not cry. Soundarya asks her to not trouble her mother by asking unnecessary questions and Lakshmi says she doesn't want anything more than her father and cuts the call. Soundarya wonders how to make Bharti understand.
Kannama comes to Lakshmi asking about her studies. She gives her questions for test and leaves for her to answer. After some time she comes back to check her answers only to find it all wrong. Lakshmi reasons that after seeing the court notice she couldn't concentrate on her studies. Kannama says the its all elders issue and we would take care of it.
He asks her to concentrate on her studies but Lakshmi says she couldn't. Kannama says that what would happen to her collector dreams if she doesn't study. She reasons that it's her father who is paying for her fees and she needs to study hard and make it worthy instead of disappointing him. Lakshmi asks whether she's not angry on her father even after him sending divorce notice.
Kannama says that she would take care of it all and asks her to concentrate on her studies. She says Soundarya would take care of it. Lakshmi says Bharti is not someone who would listen to his mother and many instances of proved it. She cries hard saying that if divorce takes place then they would never have any contact or relationship with Bharti and his family. Kannama consoles a crying Lakshmi.
Venba comes there dressed traditionally and takes blessing from Sharmila to meet her groom. Venba acts very traditional and says that she has dressed to impress the groom. She asks me Sharmila for groom's number but Sharmila is smart enough to not give it and asks her to go and meet the groom and his family. Sharmila asks Shanti to accompany her. Sharmila genda) sends off Venba with Shanti.
Hema comes to Bharti and asks whether he has lot of work at hospital and Bharti asks why. Hema asks him to come home soon as she has a surprise for him. Bharti asks what's the surprise and Hema says above her winning the speech competition last time and today they would give the award. Bharti gets happy hearing it and asks whether Lakshmi didn't participate.
Hema says Lakshmi didn't participate as the topic is about My Best father and Lakshmi couldn't talk about it as she don't have a father. Hema feels bad for her but Bharti asks her to not worry about others. Hema gets upset with his answer and reprimands Bharti. Bharti apologizes and she leaves. Bharti thinks that I if Lakshmi starts believing he's her father then he could never convince her and thinks its better this way.