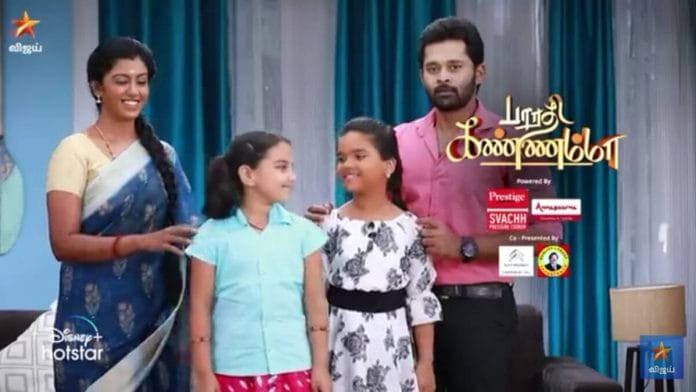 Bharathi kannamma 31st May 2022 Written Update on TellyExpress.com
The episode starts with Venba and Shanthi reaches to hotel and confirms with her it's same hotel which her mom mentioned. She asks to Shanthi Is she placed fake liquor bottle in her bag? She assures to her. Venba goes inside to meet Sujith's family members. She asks Shanthi to waits outside till she send them out. Venba greets Sujith's family and pretends like a traditional girl in front of them.
They appreciates her for being down to earth personality even after became a doctor. Her mother in law introduces Sujith to Venba and asks her to talk with him. Venba acts like she is orthodox family so she won't talk much. They gets happy to see her down to earth personality. Venba lies to them that she is ready to marry the person whom her mom choose? Sujith tries to talk with her Venba pretends like shy in front of them. They asks her to drink juice with them at least.
Venba takes their permission to drink the juice which she brought from home. They give permission to her. Venba takes the liquor bottle outside make them shocked. She starts talking with them in insulting them. She behaves worst in front of them to create bad image of her. She drinks the fake liquor in front of them to make them believe she is a not a traditional girl.
Sujith complaints to his parents that he saw his friends drinking but they mix water with it. Here she is drinking it raw. Venba says that they are useless people that's why doing like that. Venba demands Sujith to drink but he denies it. When he pushes it down she pretends like beat him they escapes from there. Later Kannamma gets surprise to see Lakshmi is in color dress. She enquired her why is she wearing it? Lakshmi informs to her that function is in school that's why. Lakshmi adds that Hema won the speech contest.
Kannamma adds that she didn't informed to her about it. She enquired her why didn't she join in it? Lakshmi informs to her that she wanna talk in the topic her father is the best father. She can't able to talk about it. Bharathi taking care of Hema well and giving all luxurious life but she is not lucky to get it from him. She shares her grief to her. Lakshmi asks to Kannamma who is Hema's mother? Kannamma refuses to answer her.
Episode end.