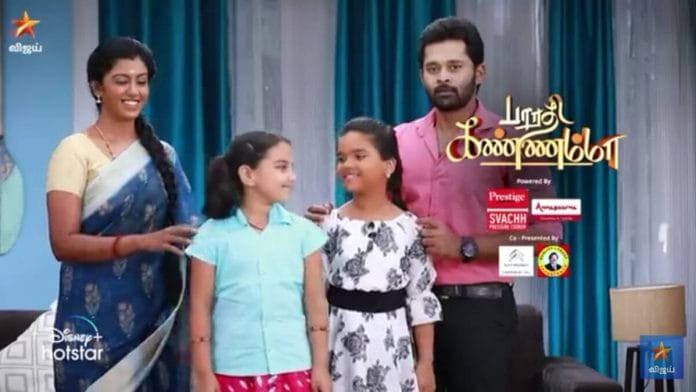 Bharathi kannamma 3rd June 2022 Written Update on TellyExpress.com
The episode starts with Raja, He misbehaves with Venba. Rohith comes there for her rescue. He fights with goons. Raja apologize to Venba for crossing his limit. Venba thank Rohith for saving her. Rohith says that she don't wanna worry about anything she can return to he safe. Venba says that he is cool. He says that its his duty to save a girl who is in danger. Venba gives her visiting card and invites him to home for dinner.
Rohith assures to visit her home. Meanwhile Lakshmi is thinking about her parents. She doubts how will she stop this divorce. Hema comes there to invite Lakshmi to take photo. Lakshmi manages to answer her. Hema shares to her that she wishes to take family photo. Whenever she see Bharathi and Kannamma they looks like husband and wife. Lakshmi thinks that they are real husband and wife.
Lakshmi asks her why did she dropped the idea to perform marriage of Bharathi and Kannamma. Hema says that she didn't dropped that plan when did she shared her thought with Bharathi he denied it. He said there is only Hema in his life. Lakshmi says that they might unite Kannamma and Bharathi.
Hema leaves from there to take photo. Later Venba returns to home frustrated and lashed out at the fiance for not reach there on time. Venba informs to her how did Goons misbehaved with her. She blames him as the reason. She demands Sharmila to stop searching groom for her. Venba informs to her that one person saved her from goons so she invited him for lunch.
Sharmila deny it reasoning groom will visit here for lunch. Venba is adamant to give lunch to her friend. Let's give feast to both of them. Sharmila thinks what will happen tomorrow. Later Bharathi return to home. Soundarya stops him to talk with him. Bharathi says that they are planning to play another drama now. He adds that they trained Hema to talk against him in stage. Soundarya denies it reasoning she said whatever in her mind.
Soundarya shows the summon to him and enquires him about the the divorce paper? He gets into an argument with her. Soundarya complaints that he is in blind world that's why he can't able to see any truth which is in front of him. Soundarya questions him Is he don't trust her in this matter? Bharathi complaints that he lost the trust on Kannamma no one can change his mind. Soundarya asks him to think about it from her point of view.
Episode end..