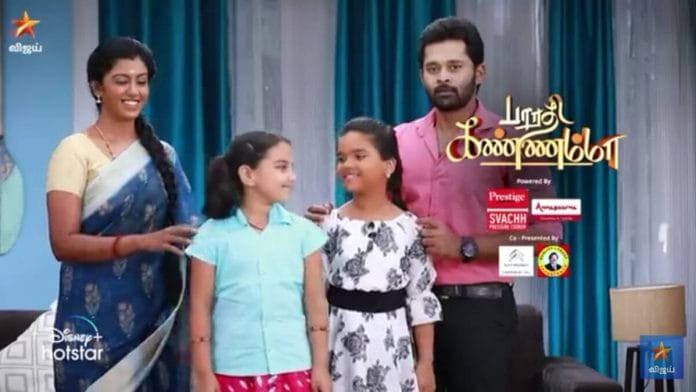 Bharathi kannamma 3rd November 2022 Written Update on TellyExpress.com
The episode starts with Soundarya lashing out at Bharathi for tried to marry Venba without thinking about his family. She complaints that Bharathi is a betrayer. Doesn't Kannamma saved him from the Terrorist risking her life. She pleads with him to accept Kannamma for her help to him. Even police offers requests him to accept Kannamma but he isn't ready to do it. If Kannamma would have leave him without care on him he would have died in that bomb blast. How could he forget her help? He is alive here because of her. He is ready to live with a betrayer ignoring Kannamma's help.
Akhil adds that he used to complaint Kannamma betrayed him. But what he did to her? Doesn't it betearal? He isn't ready to believe Lakshmi and Hema are his children but he was ready to accept Venba's child. Who is carrying someone's child. He never thinks that he will stoop this low. He is ashamed to mention him as his brother. Venu says that he is a fool he is ashamed to mention him as his son.
Hema and Lakshmi reaches there along with Anjali. Anjali shares with Soundarya that they are adamant to reach here. Hema asks them what's going on here? Did they stopped Bharathi's wedding with Venba? Does she escaped from the wedding hall to marry him? She complaints that she used to ask Bharathi to bring a new mom for he. But he convinced her that no one will come between them. Then why did he tried to marry now? How could he take a decision to marry Venba? Doesn't he know she is a bad person. Everyone aware of it then why don't he stay far from her? Doesn't she ask Venba to don't disturb her dad? She complaints to Bharathi that she asked him to block her number when she disturb him in night. Doesn't she have sence why is she troubling her dad?
Hema says to him that he stayed in home lying to them he wanted to attend the conference. He promised to don't lie again to her but he lied. Lakshmi says to Bharathi that he likes him a lot. She liked him more after her mom but she hate him now. Bharathi tries to convince her. Lakshmi says to him that she don't wanna to see him again. Stop paying for her education. She don't want him in her life. Hema says that she hates him too. She won't mention him as dad hereafter. Bharathi tries to stop her. Hema warns him to don't mention her name hereafter.
Hema pleads with Kannamma to take her from here. She doesn't want to be here. Hema gives pressure to Kannamma. Hema walks away from there taking Kannamma. Bharathi cries for Hema. Soundary asks Bharthi why is he still acting like he loves Hema. Soundarya says to Bharathi he lost his family, wife and kids today because of Venba. Just give importance to his friendship to her but don't dare to show his face to his family. Akhil says that he isn't his brother anymore. Anjali says that she never expected him to do like this. Soundarya and Venu walks away from there leaving him alone. Venba tries to talk with him. Bharathi warns her to don't talk with him. He is in this state because of her. Because of her he lost his family. He cuts all his ties with Venba and warns her to don't show her face to him anymore.
Later, Sharmila says to Venba that she expected to perform her marriage grandly. She escaped from the wedding hall insulting her. Who will marry Venba? Rohith says to her that he will marry her. His baby growing inside her. He will marry her. Sharmila gets happy to hear it.
Rohith asks the priest to give the nuptial chain to him. Priest demands him to confirm that he is unmarried. He confirms him that he is bachelor. Rohith's mom badmouthing on Venba for betrayed him. Rohith is adamant to marry Venba reasoning she is carrying his child. She refused to accept Venba as her daughter-in-law. Rohith scolds his mom. Sharmila pleads with her to forgive Venba and accept her. Rohith assured Venba to take care of her and baby. Venba stops him.
Episode ends