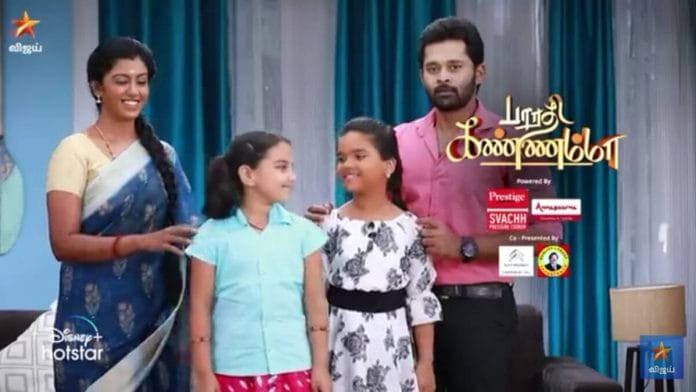 Bharathi kannamma 4th January 2023 Written Update on TellyExpress.com
The episode starts with Ganapati sharing with Bharathi that Kannamma is concentrating on her business but not minding him. Lakshmi comes there to meet Bharathi. Ganapati asks her how did Kannamma allowed her to meet Bharathi? Lakshmi says that she came here without informing mom. Ganapati says that Kannamma will scold them if she find it out. Lakshmi says that she missed Bharathi that is why she came here to meet him. She doesn't like to meet him in secret. She asks him to think a way to spend time with him without any disturbance. Bharathi tells her that he has an idea. He shares the idea with her. Lakshmi gives hi-fi to him. Bharathi says that tomorrow is the best time to proceed their plan. Lakshmi assures to him.
Next day, Bharathi calls Kannamma as Mrs. Kannamma Bharathi. She asks him why he is troubling her. Doesn't court said they don't have any relationship with each other. Bharathi tells her that it's not easy to break our relationship. He shares famous couples name and says that they will lead a happy life like them in the future. Bharathi clears with her that he is here to take his daughter out. Doesn't court ordered to her she might allow her daughters to got out with him on weekend. Kannamma refuses to send them with him reasoning childrence are not interested to go out with him.
Bharathi says that she shouldn't say this but daughters wants to say it. If they refused to go out with him he won't disturb them. Kannamma calls Hema and Lakshmi to answer him. Bharathi waves his hand at Hema. Hema refuses to go with him. Bharathi says that he is respecting her decision. Bharathi asks Kannamma to call Lakshmi. If she says the same he will leave from here. Kannamma asks her doesn't he get enough. Lakshmi comes there dresses up beautiful. Kannamma gets shocked to see her there.
Lakshmi gives hi-fi to Bharathi. Lakshmi says that Kannamma may be decided she don't need her husband. But she needs her father. She isn't able to break her relationship with him. He apologized to her so she forgave him. Hema stayed with Bharathi for last 10 years so she doesn't know his value. But she is didn't get her father's love from birth. She needs her father. Doesn't Kannamma staying with her father now? Every daughter likes their father. They bids bye to them and leaves. Meanwhile, Shanmugam says to Kannamma how did Lakshmi changed her mind? Doesn't she supported Kannamma. He never expected this from her.
Azhagar says that Bharathi didn't forced her to go with him. As per court rule he has the rights to take them out on weekends. He didn't forced Hema to go with him instead he takes Lakshmi with him. She was ready to go with him. Bharathi has all rights on his daughters. Hema says that she never expected Lakshmi will do like that. She is angry on her. Doesn't she migrated to this village for her. She hates her. Tamarai advise her to don't talk like that. Lakshmi is her sister. It's not wrong to stay with him for two days. She will come back after two days. Kannamma asks them to leave this matter.
Ganapati and Lakshmi are discussing about their weekend plan. Lakshmi notices Ice cream there. She says to him that mom used to don't buy ice cream for her reasoning she will get fever. Bharathi buys ice cream for her. Kannamma fumes seeing the way he feeds ice cream to Lakshmi. Kannamma scolds him for being careless. Lakshmi will caught cold of she eat ice cream. Bharathi asks her to don't order him what to do or not? He is a doctor. He is aware how to take care of her health. Lakshmi appreciates him. Lakshmi tells her if she need ice cream just ask her instead of arguing with him. Kannamma. Kannamma tells her that she will return home asap. She will teach a lesson to her. Later, Lakshmi gives an idea to Bharathi how to impress Kannamma. Bharathi shares his most memorable moments with Kannamma to Lakshmi. Bharathi learns from Lakshmi that today is Grandma's death anniversary. Ganapati shares an idea with him.
Episode ends