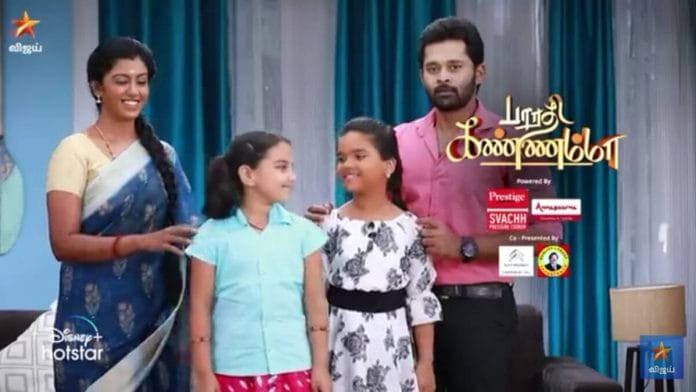 Bharathi kannamma 4th June 2022 Written Update on TellyExpress.com
The episode starts with Lakshmi, she appreciates Hema for won the speech contest. Lakshmi adds that she likes to participate in that competition but she couldn't talk about her dad in front of all.
Kannamma learns from her that Lakshmi aware who was her dad when did this contest took place. Lakshmi asks permission from Kannamma to talk about her father in front of her at lest. Lakshmi gives a speech about her father happily which makes Kannamma feels proud of her.
Lakshmi shares her grief to her Kannamma gets emotional hearing it. She hugs her and consoles Lakshmi. Later Bharathi meets Lawyer in his house. He enquires the lawyer when is his court hearing? Lawyer informs to him it will be in 4days doesn't he received the summon yet? Bharathi tells him he got it.
Bharathi asks Lawyer Is he get divorce this time at least? Lawyer says that court giving 6 months to them to check whether they change their mind or not? If he is strong to take divorce from her court can't able to do anything in this case. Hema comes there and who is him? Bharathi is talking with him morning itself.
Lawyer says that already enquiry over our side is strong so he will get divorce confirm. Bharathi adds that he definitely need it. Lawyer leaves from there. Hema thinks doesn't her mom died when she she was born then how could he ask for divorce? Why is he adamant to take divorce. Later Venba and Sharmila are troubling Shanthi to cook for her Rohith.
Sharmila says to Venba that she intentionally invited him to home to make groom feel possessive. Venba says that he saved her from goons so stop ignoring him in front of fiance. Car sound heard both rushes out to check who is that. Venba takes Rohith inside and introduce him as her friend whom saved her from goons.
Sharmila introduces him as her fiance. Venba gets shocked to hear it. Rohith hugs her friendly and makes her frustrate. Rohith apologies to her for being late. Rohith gives respect to Sharmila impressing her.
Sharmila shares her happiness with Venba for invited her fiance to home before she introduce him. Sharmila appreciates their bond irritating Venba there. Rohith attitude makes Venba frustrated. Rohith shares about him with Venba.
Episode end.