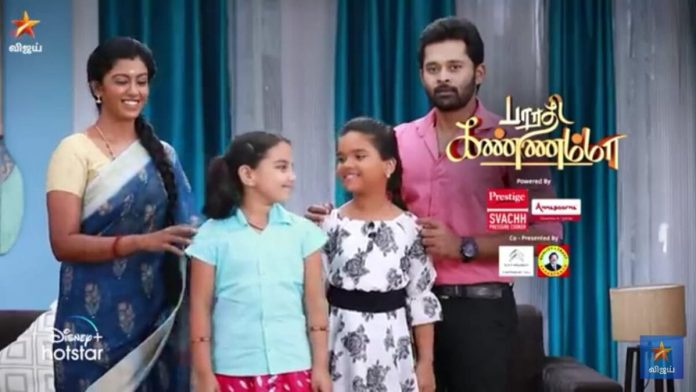 Bharathi kannamma 5th August 2022 Written Update on TellyExpress.com
The episode starts with Soundarya shares to Bharathi that Kannamma lashes out at her for separated her daughter from her? She pleaded her to return her daughter to her but she was the one requested her to wait for few days. she will reveal all the truth to him when correct times come. Soundarya says to him that Kannamma is broken when did her daughter struggled without mom. It's really hard to see our kids struggling in front of their eyes. Kannamma was bearing that pain. Whenever Hema tells her she don't have mother how much it hurts her?
Even it's hard for her to hide this truth from him. She fears Bharathi will hate Hema if he come to know about her birth truth. She shares her fear to Venu daily. She gets emotional sharing it to him. She pleads with him to understand her. Venu says to Bharathi that Soundarya used to feel guilty for her deeds. He was the one consoled her always. Venu tells her she don't need to cry she confessed all truth to him. Now decision is in Bharathi's hand. He learns all truth now.
They are saying the truth to him. He can able to understand it's bitter truth to him. He may misunderstood them betraying him these many days but they won't do anything which harm him. They done everything for his happiness. Soundarya says to Bharathi that Hema is his real daughter Kannamma whom gave birth to her. She done this all to unite him with Kannamma.
His happy life only brings happiness to their family. Hema is his daughter. She pleads with him to believe her. She asks him doesn't he trust her words? Lakshmi and Hema are twins she about to swear on them but Bharathi stop her. Guest leaves from there. Bharathi is devasted hearing the truth. Soundarya demands Kannamma to do something for her. She nods with her.
Soundarya apologises to Kannamma for separated her daughter from her. When did Kannamma learn the truth she demanded her to return the child Soundarya whom plead with her to hide this matter from Bharathi. She too accept it for her. She burst out today because Bharathi mentions someone else as Hema's mom.
Soundarya says to Kannamma that Hema is Bharathi's everything. He don't have a life without Hema so please don't separate her from Bharathi. Kannamma shares to Soundarya that she learnt this truth few months before through Tulasi. Doesn't she requested her to don't take Hema from Bharathi. She done it for Bharathi's happiness. Because she is well aware how much he love Hema. Even Hema loves him a lot. If he don't love her then she would have taken her from him when did she learns the truth.
When did he said someone else as Hema's mom she can able to stop him and reveal to Hema she is her mom. She didn't done it because Bharathi can't able to accept that truth. If she has any intention to separate Hema from him then she would have done it before itself. She gonna live with her father so she has no problems in it.
Kannamma asks Bharathi Is he planning something against her to separate her daughter from her then she won't sit quiet. She was keeping quiet these many days just for his happiness. If she learns he is planning against her then she will never hesitate to separate her daughter from him forever. Bharathi gets devasted hearing it all. Sivagami consoles Soundarya. She shares to Kannamma and Bharthi that they thought they are leading a happy life. They learns the truth after Sandhya said everything to them.
Sivagami advises them to live together for their parents happiness at least. Ravi tells him he is considering him as his own son. He asks him to live with Kannamma forgetting the past. Sivagami says to her that kids are struggling because of them. They can give a thought to it. Forget the past and accept Kannamma. Saravanan and Sandhya requests them to live together for their kids.
Episode end