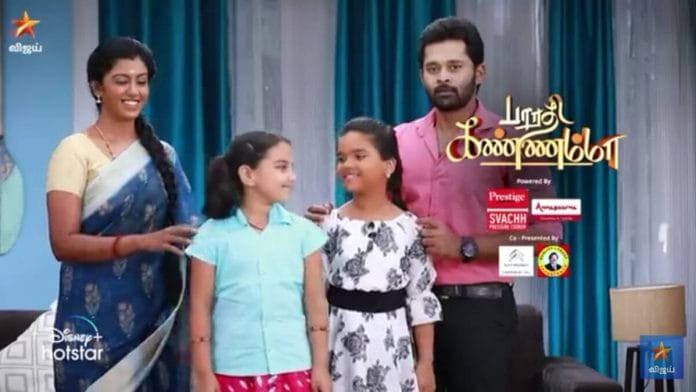 Bharathi kannamma 5th January 2023 Written Update on TellyExpress.com
The episode starts with Ganesan announcing the Thiruvizha date to villagers. He asks everyone to tie the Kaappu tomorrow. He adds that many competition will be conducted in Thiruvizha. Meanwhile, Tamarai hears the "Oppari" sound. She informs to Shanmugam that she returned to home now. But she didn't heard anyone died in village. Azhagar asks her to check Muniya Swami house. His mom was sick. What if she died there. Tamarai nods with him. She goes to check there. She is surprised to see Bharathi and Ganapati are crying in front of Parvathy's picture.
Tamarai thinks that he is planning something to impress Kannamma. Tamarai takes Kannamma out. Kannamma glares seeing Bharathi arranged death anniversary rituals for her mom. Ganapati and Bharathi are pretending like crying there. Ganapati says that Shanmugam and Kannamma will throw flowers on Parvathy's picture. He invites them there but Kannamma glares at them. Ganapati asks Shanmugam to stop glaring him instead throw flowers on her photo to give respect to Parvathy. It's 32nd death anniversary for her. Ganapati asks the villagers to call her.
Tamarai asks Kannamma to give respect to her mom. Bharathi pretends like crying and shares with Parvathy that Kannamma isn't ready to live with him. Ganapati asks him to don't worry. May be hee ghost will possess someone and ask her to live with him. Azhagar advises Kannamma to throw flowers on her mom photo. Tamarai takes her from there forceful. Bharathi gives flowers to her. She throws it on Parvathy's photo. Ganapati announces that Kannamma will attend the prayer. She will give Annadhanam to villagers on this day. She will do death rituals for Parvathy. Kannamma questions them what's going on there? She won't agree to their plan. Bharathi says that he didn't call her to go for a movie with him. Doesn't she love her mom? Why don't she attend this prayer?
Shanmugam says that he want to do it. But Bharthi arranged it behalf of him. As as daughter she wants to join with him. Bharathi agrees with his point. Kannamma says that they won't leave her until she attend this prayer. She agrees to do it in half heart. Bharathi smiles at her. Later, Bharathi giving Thidhi to Parvathy. Kannamma gets emotional seeing it. Everyone attends the prayer. Priest asks Bharathi to mention the name of Kannamma's mom and relation. He shares the details with him. Priest appreciate him for doing it for his mother in law. Priest asks Kannamma to sit beside him reasoning blood relation wants to do it. Shanmugam and Tamarai convinces her to sit beside him. Bharathi smiles seeing her sit beside him. Both finishes the rituals together. Ganapati stops the villagers from leaving. Ganapati says that he thinks her soul rest in peace.
He announces that Kannamma and Bharathi will serve Annadhanam to the villagers. Kannamma refuses to do it. Shanmugam convinced her to do it. Kannamma agree to do it again. Ganapati annouced to the villagers about it in Mike. He adds that they are playing a special drama in night. Later, Kannamma teaching home work to Hema. She notices Bharathi playing with Lakshmi. Bharathi pays extra money to arrange Rattnam for Lakshmi. Hema refuses to play in it. Kannamma looks confused. Later, Ganapati starts the drama there.
Episode end