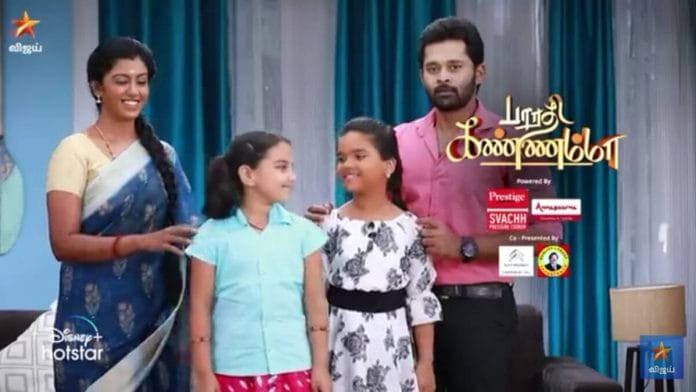 Bharathi kannamma 5th November 2022 Written Update on TellyExpress.com
The episode starts with Anjali asking Soundary to eat something. She refuses to eat. She asks her to give food to Hema. Anjali tells her that she wants to take medicine on time. She requests her to eat something. Akhil consoles Hema. Bharathi returns to home. Soundarya ignores him. Venu walks away from there seeing him. Bharathi requests her to talk with him.
Soundaya says that he will try to justify his act. She doesn't want to hear anything. Bharathi tries to talk with Hema. She follows Soundarya behind ignoring Bharathi. Akhil says to Bharathi that family members were not in the state to talk with him. Bharathi is adamant not to listen them. Hereafter no one will advise him or give suggestions in his life. They don't care about his life anymore. Bharathi sits there breaks down.
Kannamma recollecting the incidents and cries. Lakshmi noticed Kannamma is awake. She shares with Kannamma that she isn't able to sleep remembering about Bharathi. She is angry on Bharathi. How could he take the decision to marry that Venba? Where did he lost his sense? She wasn't angry on him like that yet. She adds that Hema cried a lot today. She said to her that Hema was an orphan.
That is why he did like that. She was about to confess the truth to Hema. But Soundarya stopped her. Lakshmi says that she was adamant to find out her father. Now she is regretting learn about him. She hates her father. Kannamma advise her to leave this anger. She is a child she shouldn't have get angry on him like that. Lakshmi complaints that Kannamma got angry on him too. She doesn't need him in her life. She only wants Kannamma. She consoles her.
Venba frustrated to think about her wedding with Rohith. She is angry on Kannamma for insult her in front of everyone. Rohith arranges everything for her first night.
Later, Sharmila says to her that she got married now. She might leave her anger and lead a happy life. She is pregnant now. Venba gets angry on her. Sharmila mocks Venba for lost in everything. She says to her that she might listen to her. She advise Shanthi to take her down.
Shanthi apologize to Venba for revealed her truth to Kannamma. She adds that she threatened her to kill. She blaberedd the truth to him in fear. She advised her to accept Rohith and move on in her life. Venba gets frustrated hearing it. Venba thinks that she won't give up. She carried this baby to marry Bharathi. She won't get him back in her life. Why should she carry this baby unnecessary. Venba pretends like falls down from the stairs. Sharmila and Rohith takes her to the hospital.
Later, Bharathi regrets his decision. He thinks that he shouldn't have agreed to marry Venba. Everyone insulted him for his small mistake. She separated his child from him. He won't leave Kannamma for this. He is damn sure that DNA test will come favour to him. He will teach a lesson to her after he receive the DNA report. He got a results favour to him 10 years before. He won't leave her for insulted him like that in front of everyone. Both Kannamma and Bharathi breaks down emotional.
Episode end
Click to read