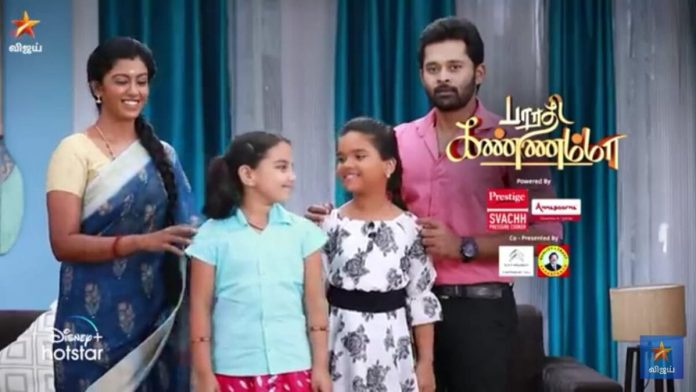 Bharathi kannamma 6th August 2022 Written Update on TellyExpress.com
The episode starts with Soundarya returns to home and finds the house is dark. He says to Akhil why did no one turns on the light here? Akhil tells her they left Mallika here. Bharathi is angry on them so he will come late to home after roaming around with Hema. They noticed Bharathi sitting in dark there. Bharathi says to them that they betrayed him. These many years he was blinding trusting them but what did they returned to him is betrayal. He didn't betrayed his family yet. He was a good brother and son to them but he got onli betrayal in return. They back stabbed him. Kannamma was questioning him in front of all but his family members were staring him without supporting him. Doesn't she said she will separate Hema from him. They are well aware Hema is his everything and she is using his weakness against him. He never thought his family members will betray him. Is he looks like a fool to them.
Is he done anything wrong to him? Why didn't they said the truth to him yet? All are same in this matter. Isn't he looks like trustworthy? Whatever they think about him doesn't matter to him. His love for Hema is true. She is everything to him he can't able to think a life without Hema. They can betray him in all matter but not in Hema's life. He won't sit quiet if they plays with Hema's life. If anyone tried to separate Hema from him then that's the last day in his life. He is concentrating on his profession and living quiet with his daughter. Stop poking their head in his life. He is feelings ashamed to live with the family members whom betrayed him these many years. It's his final decision to stay here with Hema here just for Hema's sake. She loves everyone here. She needs her family. Don't try to separate his daughter from him.
Bharathi leaves from there leaving his family members in dilemma. Kannamma keeps thinking about the incident there. Lakshmi says to Kannamma that she don't need dinner she ate full in function. She asks Kannamma Is Bharathi said the truth? When did she married to Bharathi? Is she dead when they were in village? Kannamma gets irritate when did she praised Hema. Kannamma demands her to stop talking with her. Lakshmi complaints to her that she ate well. Kannamma asks her to study well she didn't study these many days. Lakshmi thinks why did mom getting angry on her unnecessary? Why did she avoiding her questions? If Bharathi lie to Hema? She wanna find out whether she is Hema's mom or not? She shares to Kannamma that tomorrow is parents teachers meeting. Kannamma scolds her for informing her late reasoning she has work in hospital. Lakshmi asks her to take permission for two hours. Kannamma tells it's not good to take permission often. She tells her that she will talk with teacher in phone. Lakshmi doubts that something is bothering them. She wishes to find out the truth.
Bharathi returns to his room and notices Hema hugging photo frame. He feels guilty hearing Hema mentioning her mom name in sleep. Hema asking her mom why did she left her alone? They would have lead a happy life. Bharathi removes the photo from her hand. Hema thank Bharathi in sleep holding his hand. He regrets for his deed. Bharathi is detemined to don't leave Hema for anyone.
Episode end