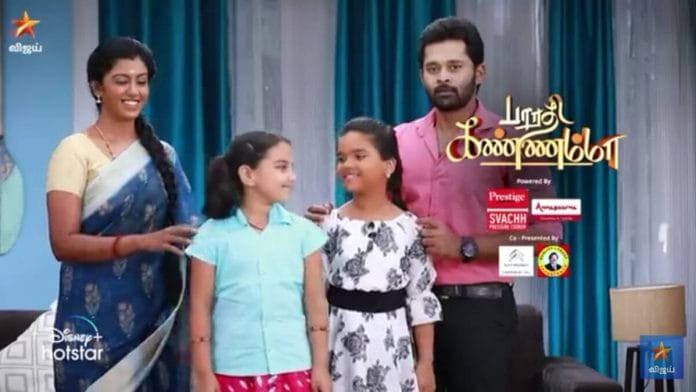 Bharathi kannamma 6th January 2023 Written Update on TellyExpress.com
The episode starts with Kannamma teaching homework to Hema. Tamarai calls Kannamma to watch drama. Kannamma refuses to go. Hema tells her that drama sound disturbing her. Lakshmi wears lord Murugan costumes. Tamarai tells her that Lakshmi wearing Murugan costume. Kannamma gets excited hearing it. She goes to check her. Kannamma and Hema admired her look. Lakshmi and new actress is playing goodee Parvathy role in that drama. Kannamma admires her dialogue delivery. Lakshmi complaints to Parvathy that father likes his first child. She denies it it's a Thiruvikayadal of lord Shiva. She narrates to her how did lord plays a Thiruvikayadal with her.
Shiva and Parvathy gives a dance performance. Parvathy asking permission to lord Shiva to meet her father. He refuses to give permission to her. She gets angry with him and decided to stay in her father house. Shiva demands her to don't return again. He asks her to take her luggage with her. Everyone laughs hearing it. Shiva missing Parvathy's scene plays there.
Bharathi and Kannamma shares emotional eye lock. Ganapati plays Parvathy's father role. She argues with him for not invite her husband to attend the yagam. He tells her that she married him going against him. So he won't accept her as his daughter again. Parvathy returns to home and regrets for not listened to her husband. She shares a social message to everyone. Arguements is common between husband and wife. They shouldn't take it seriously. Bharathi and Kannamma looks each other. Bharathi signals to her that this song dedicated for her. Kannamma glares at him.
Again Shiva and Parvathy are arguing with each other. Parvathy apologize to Shiva for her mistakes. Shiva ignores her. Parvathy asks him for a last time will he forgive her or not? He refuses to forgive her. He shouts at her. Parvathy disappears from there. Shiva shows the Rudhra Thaandavam there. Everyone expression got changed after seeing it. They claps for him. Few saints comes there and tries to convince Shiva. Without Parvathy Shiva is nothing. She is a part of him. They pleds with him to forgive her. Parvathy returns to home. They shares to them both husband and wife are equal. They wants forive their mistakes and accept each other. Bharathi claps for them. Kannamma glares at him. Everyone appreciates their drama which irritates Kannamma.
Later, Bharathi greets everyone. He shares with them arguments is common one inbetween husband and wife. Both husband and Wife are important and equal. He wants to share this message to everyone. Kannamma praises the drama there. Kannamma says that this message is old man. May be men not able to live without their wives. But a woman is able to live without her husband. Bharthi gets upset hearing it. Later, Kannamma gets emotional seeing her mom's picture. Tamarai praises Bharathi. She asks her about her mom picture. Kannamma shares with her how did Bharathi surprised her by gifting her mom's picture. She shares her past with her. Tamarai advises her to accept Bharathi
Episode end