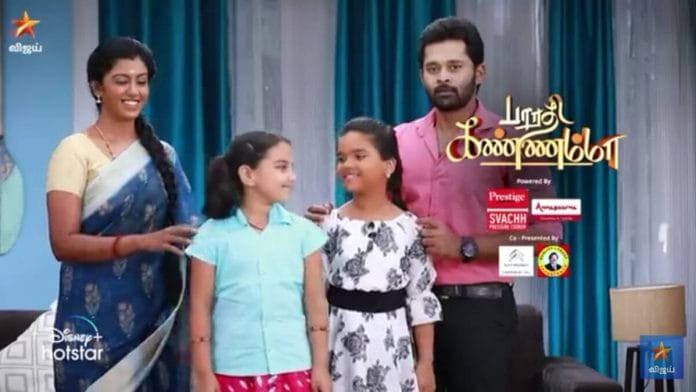 Bharathi kannamma 6th June 2022 Written Update on TellyExpress.com
The episode starts with Hema, She reminds about Bharathi's conversation. She asks Lakshmi doesn't she has knowledge about Divorce then her? Lakshmi explains to her everything. Hema says that Bharathi said her mom died when she was born. Then whom he gonna divorce?
Lakshmi thinks that he gonna divorce his wife Kannamma. Hema asks her what's going on here? Lakshmi says she might asks this to Bharathi. Later Sharmila enquires to Venba how Rohith looks like? Doesn't he resembling hero? She adds that he is foreign return. Sharmila shares to her that she is well aware of Venba that's why she bring duplicate groom for her then only she will try something to send them out. She brings original one after it.
Sharmila says that he saved her from goons it's not in her plan. She demands her to go out with Rohith. Venba says that how will she go out with a stranger. Sharmila asks her to stop pretending like innocent. If Bharathi calls her to go out she would have fly on cloud. Hereafter she shouldn't go behind Bharathi but this Sarathi only. Rohith comes there Sharmila asks him to take Venba from there. She thinks both looks good together.
Bharathi asks Kannamma to meet him in cabin. Kannamma comes there he tries to mock her by saying she is admin officer here without any experience. He enquires her about notice. Kannamma gives back to him in the same way. Bharathi gets irritate seeing her mocking him. He enquire her about Divorce notice.
Kannamma complaints that he didn't mentioned he was talking about divorce notice then only she can understand this. She assures to him that she got it already. Bharathi says that he will get freedom from her soon. This divorce gonna prove she has no relationships with him. He warns her don't try to stop this divorce with her in laws.
Kannamma says that he is trusting court. But she is believing truth she know to fight for justice. Doesn't she stand in her own leg these many days. He demands her to say what's going on in her mind? She asks him to wait and see it in court. Kannamma leaves from there mocking at him.
Later Rohith takes Venba out in car. She asks him to stop singing which irritating her a lot. She complaints that he was driving slowly. Rohith tells her that it shouldn't give romantic feels to him. She insults him that he don't know to drive that's why he is giving such dialogue to her.
Rohith says that she gonna witness his real talent. He asks her to wear the seat belt but she deny it and mocks at him. He asks her to get ready asap she gonna see the action movie now. Rohith drives faster which makes Venba panic. He gets excited to see beach and takes her from there. Later Hema visits Bharathi in his cabin.
Episode end.