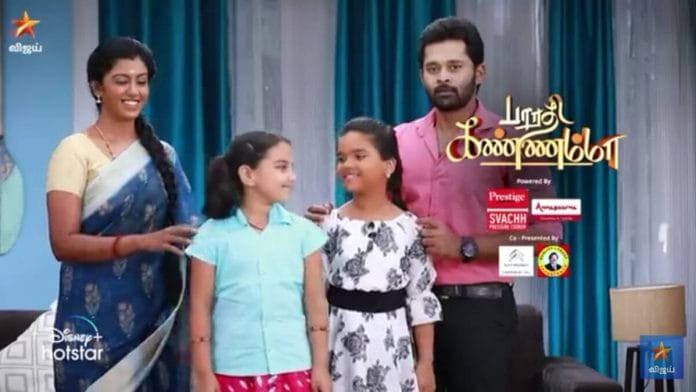 Bharathi kannamma 7th January 2023 Written Update on TellyExpress.com
The episode starts with Bharathi is feeding food to Lakshmi. Kannamma notices it. She admires their bond. Lakshmi shares with him that she wants to stay with him forever. She wants him to feed food to her. Bharathi says that she is already meeting him in weekend. Lakshmi says that Hema will stay with mom and she will be with Bharathi.
Bharathi tells her that court ordered them to stay with him on weekend. He isn't going far from them. Doesn't he staying just opposite to them. He advises her to don't hurt mom like that. Doesn't mom take care of her these many years. Kannamma gets hurts to hear it. Later, kannamma notices Hema is angry. She shares with Kannamma that she doesn't know why did Lakshmi went with Bharathi? She disliked the way she was ignoring us being with him. She wants to beat her. Kannamma advises her to stop thinking like that. She is happy because Hema is with her. Lakshmi didn't go anywhere. She will return home on Monday. Hema is determined to not talk with her.
Kannamma tells her that Lakshmi is her sister. She shouldn't treat her like that. Hema says that she don't like to talk with her. Later, Soundarya calls Bharathi but Lakshmi attends the call. She gets surprised to hear her voice. Lakshmi tells her that she was staying with dad. He called them to spend time with him on weekend.
But Hema refuses to go with him. She is with him. Soundarya says that Kannamma and Hema don't understand Bharathi. But she is happy at least Lakshmi accepted him as her father. Lakshmi says that it's her long term wish to spend time with dad. Hema and Kannamma will understand Bharathi asap. Soundarya tells her that she is waiting for the day they are living together. Lakshmi assures her that it will happen soon. Lakshmi says that she is missing everyone in family. Soundarya says that she is waiting to see her. Let's meet asap. Soundarya disconnects the call in happiness.
Later, Kannamma delivers the products in street shops. Paandi notices her delivering the products. Shop owner praises her hand made Masala. Paandi's men asks him to notice what's going on now. He sends his men to that shop. He delivers the products to that shop. Shop owner complaints to him that already his masala taste is tasting bad. No one is buying the masala. She returns the products to him. Paandi says to his henchman that he will make Kannamma as their partner.
Later, Hema and Pooja are studing outside. Lakshmi playing cricket with Bharathi. Bharathi praises Lakshmi's batting. Ganapati also appreciates her. Ball falls on Kannamma's house. Bharathi asks her to give the ball. But she refuses to give the ball to him. Pooja helps him to return the ball. Tamarai asks Hema to go play with him. She denied it reasoning she wants to study. Tamarai teases that she never used to study like that before.
Pooja joins with Lakshmi to play cricket. Tamarai is enjoying the game. Bharathi intentionally drops the ball down to make Lakshmi win. Lakshmi hits the ball and it's hurt Hema. Hema complaints that she is intentionally hurting her. Bharathi says that she didn't do it intentionally. Hema says that Kannamma don't like him so she don't like him either. She says to Bharathi that she hates him. Lakshmi consoles Bharathi everything will be alright. Later, Paandi stops Kannamma on her way. Paandi offers lift to Kannamma but she refuses to accept his life. He asks her to join in his business. He will add her as his partner in masala business. Kannamma refuses to accept his offer. He says to her that he is ready to help her in any way. He tries to misbehave with her. Kannamma slaps him in anger.
Episode end