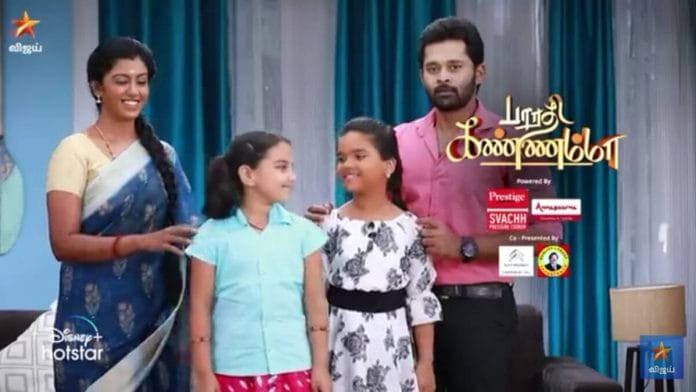 Bharathi kannamma 7th June 2022 Written Update on TellyExpress.com
The episode starts with Hema, she keeps questioning Bharathi about his divorce matter? She asks him to tell her about her mom's whereabouts? What's the reason the to divorce her mom? Bharathi has no answers to her questions.
Bharathi excuses her when emergent patient comes. Later Venba gets irritate to see the way Rohith enjoying in beach. He calls Venba to join with him but she denies it reasoning she hates beach. She scolds him in heart. He forcefully makes her play in the beach waves she scolds him for ruining her dress.
He demands her to give her dhuppata to caught fish. She teases him that he can able to do it in depth of sea. Rohith says that he can ale to do it. Both tries to caught fish but only pearls got. Venba mocks at him. He mocks at her back. She argues with him and about to leave. Finally they caught fish together. Venba gets shock to see it and doubts how is it possible?
Kannamma is working in her cabin Bharathi comes there to meet her. He thinks she starts mocks at him for visiting her cabin. Kannamma asks him why is he here in her cabin? Bharathi says that he wanna talk with her. Kannamma teases him that he is often talking with her.
Bharathi complaints that she is planning smart to stop this divorce. Kannamma demands him to explain the situation and scold her. Bharathi adds that she wanna stop the divorce so she used Hema to stop the divorce? Kannamma complaints that she don't share such things to Lakshmi then how will she share it with Hema?
Kannamma says that he lied to Hema that her mom was died then how will he give divorce to her. Bharathi complaints that she is playing with kids. Doesn't she hide fatter details with Lakshmi and made her search for him. Now she is trying to spoil Hema's life too. Kannamma strongly says she didn't shared anything to Hema. She don't wanna do it. She swears on her daughter.
Bharathi doubt whom shared it to Hema then? He calls to his driver and ask him to take Hema from his cabin. Later Rohith is grilling the fish he calls her to dance with him. Venba demands him to talk with her. She says that its her life matter. She adds that she don't wanna hide it from him. She is loving someone else. Venba shares everything about Bharathi with him. She shares her grief to him.
Episode end..