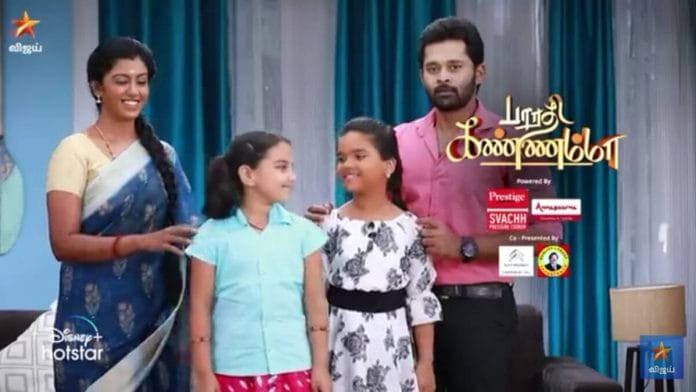 Bharathi kannamma 8th August 2022 Written Update on TellyExpress.com
The episode starts with Venu shares to Akhil that they expected to celebrate this birthday party well but everything ruined. Akhil says to him everything happened for a good reason. How many days they can able to hide this truth from Bharathi. Soundarya tells him he is right Kannamma was patient these many days. As a mother she can't able to see he is mentioning someone else as Hema's mom. Venu says to her that he is not blaming Kannamma in it. Soundarya adds that Bharathi gonna react worst hereafter. They might bear his anger. He will ignore them and accuses them as betrayal family.
Akhil asks Soundarya Is she remember Kannamma's words? Doesn't she said Venba tried to kill Kannamma on her pregnancy? Soundarya tells him if she aware of this truth she would have killed her on that moment. Akhil tells her that Kannamma was hiding this truth from her. Soundarya says to her she is a an educated criminal. Such a physco. Akhil tells her they can't able to leave this matter in this way? Soundarya tells him she won't leave her.
Venba gets irritate reminding her past. Shanti tells her Soundarya hidden the truth from Bharathi. She has no idea Lakshmi and Hema are twins. Bharathi was devasted after hearing the truth. Venba tells her that she was thinking about Kannamma revealed to Bharathi she tried to kill her. Shanthi says to her it's lie why did she worrying about it. Venba says to her it's truth. She tried to kill her but Durga whom kidnapped her on that day. If he didn't done like that means Kannamma would have died now. She would have lead a happy life with Bharathi. Shanthi tells her Isn't Bharathi supported her there.
Venba says to her she is well aware he will support her and never believe it all. But she can't able to stay quiet in this matter because Soundarya is a dangerous person. didn't she see the way she strangled her neck in front of all. She will do anything for Kannamma. Doesn't Kannamma bring Tulasi thete to bring out the truth. What if she bring Durga there to do it all? Shanthi tells her nothing to worry let's deal this matter careful. Venba tells her Soundarya learnt the truth now. She won't sit quiet after it.
Soundarya notices Bharathi helping Hema to get ready. She shares to Venu that he started ignoring them. Soundarya goes to help her but Bharathi deny it. Bharathi says to Hema that he will do everything for her hereafter. He excuses her. Soundarya shares to Akhil that he is behaving like stranger here. Bharathi brings food there and feeds to Hema. He didn't attend the phone. Hema asks Bharathi to attend the call may it's emergency call. Grandma will feed her she used to feed her daily. Bharathi says to her that he will do it. Soundarya says to Venu that he is doing it in ego. Venu tells her that he will get busy in a few days let's see what's he gonna do on that time. Hema informs to Bharathi that she forgot to inform him about Parents teachers meeting.
Bharathi assures to attend the meeting. She asks him Is he angry on her for sharing it late to him? He deny it. Hema shares to Bharathi that she wanna say bye to grandparents. She demands Bharathi to do it. He deny it. Hema asks him Is he argued with his parents? He manages the situation and leaves from thete. Soundarya says to Akhil that Hema gonna kill him with questions. Akhil consoles them Bharthi's anger right in this situation. Meanwhile Kannamma enquires Lakshmi Is she completed her homework? She assures her that she finished it. She calls her to attend Parents teachers meeting but Kannamma deny it.
Episode end