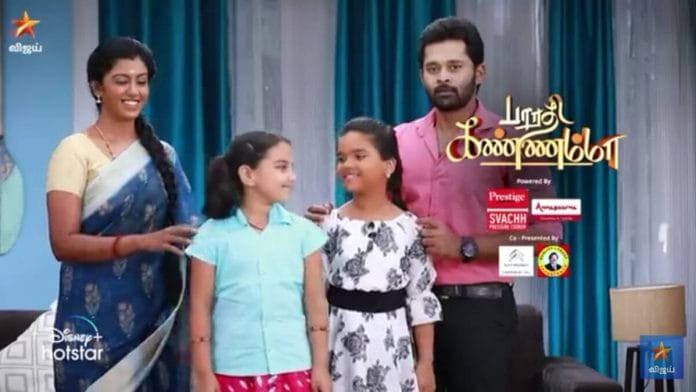 Bharathi kannamma 9th August 2022 Written Update on TellyExpress.com
The episode starts with Venu is reading the newspaper. He starts cough out of the blue. He notices blood in his saliva. Soundarya asks Venu what happened to him? Venu pretends like wash his face and lies to her he was washing his face. This AC not working well he feels hot here. Soundarya tells him it's chill here why don't he consult doctor. It's not good to sweat in cooling place. She asks him to accompany her to hospital let's check his health condition. Venu denies it reasoning he just washed his face. He don't have any problems in his health. Soundarya says to him that he is not talking like a hospital owner. He refuses to go to hospital. Soundarya leaves from there. Venu thinks that he thought it's just a small problem but today lots of blood came. He decided to meet the doctor alone.
Bharathi attends parents teachers meeting for Hema. Teacher appreciates Bharathi for attending the meeting leaving all his busy schedule. Bharathi tells him that he may be a doctor but he is here to attend his daughter's parents teachers meeting like a normal parent. His daughter is important him then anything. Teacher shows Hema's progress report to him. He praises Hema for scoring good marks in all subject. Bharathi praises her. Teacher adds that she is scoring less marks in Tamil that too spelling mistake. Bharathi advises her to practice Tamil in home. Lakshmi notices Bharathi taking care of Hema. She imagines Bharathi attending Parents teachers meeting for her and appreciates her. She feels happy to imagine it. Lakshmi thinks it will be good if Bharathi attend the meeting for her.
Bharathi excuses the teacher and leaves. Lakshmi stops him and asks him to help her. Bharathi tells her he is getting late to his work. Lakshmi says to him that she really needs his help. Bharathi asks her to say what's it. Lakshmi informs to him that mom is busy in hospital that's why she couldn't attend this parents teachers meeting. She asks him to attend it for her reasoning her friends are mocking at her. She pleads with him to attend the meeting for her. Bharathi denies it reasoning he is not her parent to attend it. He has important work in hospital. Lakshmi tells him that she scored good mark in all and also it will only take 5 minutes to finish it. Bharathi denies it and walks from there. Lakshmi stops him by mentioning him as dad. She says to him that she well aware he is her father.
Soundarya and Kannamma said to her she is her father. Lakshmi says to him that she find out it before itself. Everyone warned her that Bharathi don't like her mentioning him as dad. Bharathi gets shocked to hear it. He thinks that all are betraying him. They done injustice to her in it. Lakshmi asks him to attend it for her behalf of her mom. Doesn't she asking this as a small help to him. Bharathi walks away from there without helping her. He thinks that they made her behaving cruel man in front of a kid. Later Venu meets doctor in hospital. Doctor advises him to take care of his health. His blood samples sent to lab let's wait for thr result. Venu asks him to hide his health condition from all.
Episode end