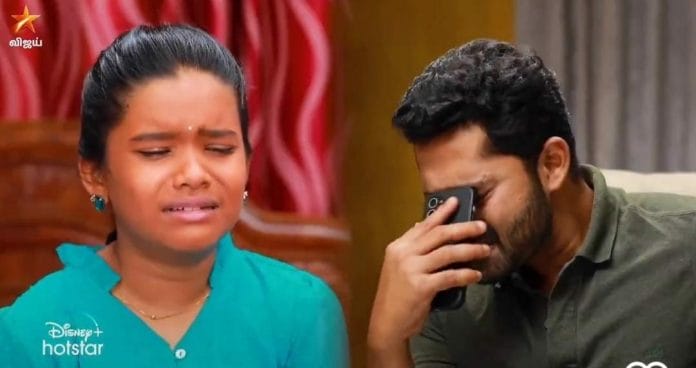 Bharathi kannamma Upcoming Story, Spoilers, Latest Gossip, Future Story, Latest News and Upcoming Twist, on TellyExpress.com
Vijay TV's popular show Bharathi Kannamma never fails to entertain it's audience with its interesting story line. serial brings a major twist by taking DNA test to Bharathi and Lakshmi. Now series focuses on Hema to seek Bharathi's help
In Today's episode we see: Bharathi tasting the Hema's handmade taste. He praises the taste of it. Hema shares with him that mom said to her she shouldn't forgot the help of him. He took care of her and gave place to stay here. She wishes to thank him for his help. Bharathi gets hurts to hear it.
He pleads with Hema to celebrate the Diwali with him. Just lighten the crackers with him. Hema nods with him. She asks him to wear new dress than only she will celebrate Diwali with him. Bharathi comes there wearing new dress.
Both lighten the Crackers together. Hema says to Akhil let's leave. Bharathi tells her that he doubted whether she will come see him on Diwali or not? He was emotionally broken. He got his life back after seeing her. He pleads with her to stay with him.
Hema says to him that she promised to return home. Mom will search for her. Hema leaves from there. Later, Bharathi thanks Kannamma for send Hema to his house. She asks him what did he decided? He is adamant not to accept her.
In the upcoming episode viewers will see; Hema's class teacher will ask Hema to invite Bharathi as a chief guest. Hema will reveal to her that Bharathi isn't her father. She staying with Kannamma.
Teacher will question her who is her father? Hema will inquire Lakshmi about it. She will refuse to answer her. Hema will ask Bharathi to help her find her father.
What will happen next? When will Bharathi accept Kannamma? When will Venba's truth come out?
The upcoming episode will answer all our questions and stay in tune with our space for more updates