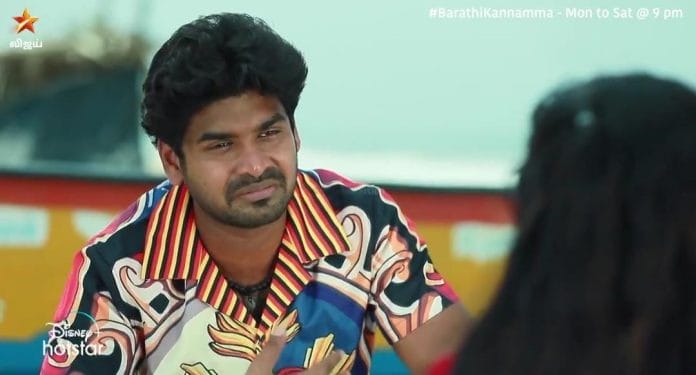 Bharathi kannamma Upcoming Story, Spoilers, Latest Gossip, Future Story, Latest News and Upcoming Twist, on TellyExpress.com
Bharathi kannamma is famous Vijay tv show. This show revealing truth one by one to entertain its audience. Now serial concentrating on Rohith to mock Venba!
In Today's episode we see; Hema keeps questioning Bharathi about his divorce matter? She asks him to tell her about her mom's whereabouts? What's the reason the to divorce her mom? Bharathi has no answers to her questions. Bharathi excuses her when emergent patient comes. Later Venba gets irritate to see the way Rohith enjoying in beach. He calls Venba to join with him but she denies it reasoning she hates beach. She scolds him in heart. He forcefully makes her play in the beach waves she scolds him for ruining her dress.
He demands her to give her dhuppata to caught fish. She teases him that he can able to do it in depth of sea. Rohith says that he can ale to do it. Both tries to caught fish but only pearls got. Venba mocks at him. He mocks at her back. She argues with him and about to leave. Finally they caught fish together. Venba gets shock to see it and doubts how is it possible? Later Bharathi confronts Kannamma and blames her for Hema's state. Kannamma clears air him that she won't do such cheap activities.
In the upcoming episode viewers will see; Rohith will take Venba to beach. Both will catch fish there. Venba will open up with him that she has feelings on Bharathi but mom trying to perform her marriage with Rohith in rush. Rohith will pretend like he is heart broken later he mock at her.
What will happen next? Will Rohith tie knot with Venba? When will Bharathi come to know the truth?
Upcoming episode will answer to our all questions stay tune with our space for more updates.