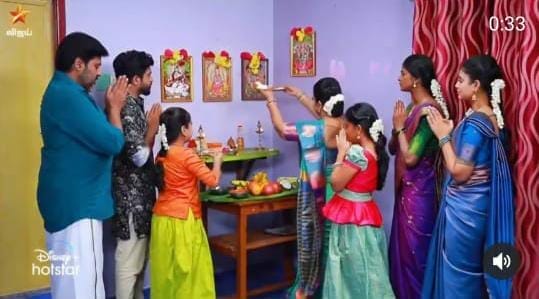 Bharathi kannamma Upcoming Story, Spoilers, Latest Gossip, Future Story, Latest News and Upcoming Twist, on TellyExpress.com
Vijay TV's popular show Bharathi Kannamma never fails to entertain it's audience with its interesting story line. serial brings a major twist by taking DNA test to Bharathi and Lakshmi. Now series focuses on Bharathi is stubborn
In Today's episode we see; Venba notices Bharathi at the hospital. She goes to meet him. She greets him but Bharathi avoids her. Venba asks him to treat her as a patient at least. He wasn't inquiring about her health as a doctor too.
Bharathi says to her that he lost everything in his life because of her. Though she was expecting him to talk with her normal? He understands her evil thoughts well.
Venba says to him that she cares for him a lot. That is why she is coming back to him even after he humiliated her. Doesn't he understand her love for him? She heard whatever happened in his home.
That Kannamma used his situation to separate Hema from him. His family hating him because of her. Doesn't Soundarya adopted Hema from the orphanage. Then how could she claim Hema is her daughter? She created a fake story to take Hema from him.
She is doing it to separate her from him. Bharathi says to her that she is worst then that Kannamma. She shouldn't play a innocent character here.
In the upcoming episode viewers will see; Bharathi will warn Venba to stay away from his life and family. Hema and Lakshmi will get excited to see Soundarya's family. They will celebrate the Diwali with Kannamma and her children.
Soundarya will share with Kannamma that everyone came here to celebrate the Diwali but Bharathi is also in home. Kannamma will send Hema to meet Bharathi. Hema will give sweets to him and wishes him. Bharathi will be on cloud and hug her.
What will happen next? When will Bharathi accept Kannamma? When will Venba's truth come out?
The upcoming episode will answer all our questions and stay in tune with our space for more updates