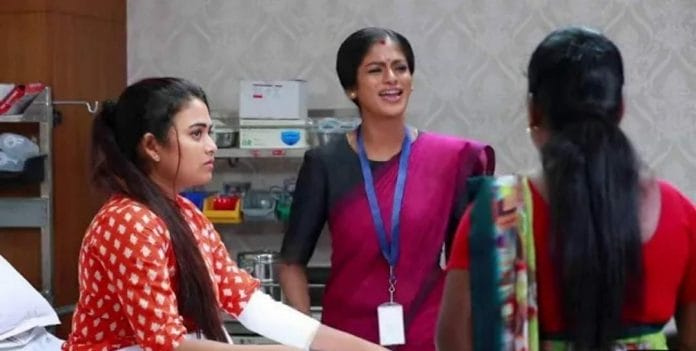 Bharathi kannamma Upcoming Story, Spoilers, Latest Gossip, Future Story, Latest News and Upcoming Twist, on TellyExpress.com
Vijay TV's popular show Bharathi Kannamma never fails to entertain it's audience with its interesting story line. serial brings a major twist by taking DNA test to Bharathi and Lakshmi. Now series focuses on Hema to avoid Bharathi
In the previous episode we saw; Bharathi informing Akhil that he took DNA test for Lakshmi and Hema. Akhil gets shocked to hear it. Bharathi adds that Kannamma and family members are saying both Lakshmi and Hema are his children. This DNA test only bring truth out and put end card to his doubt.
Everything went out of his hands when DNA test got delayed. Akhil asks him what's he saying? Bharathi narrates the incidents to Akhil. Bharathi says to him that he was determined to marry Venba after he confirmed that both Lakshmi and Hema wasn't his children. He got trapped in Venba's plan.
He was trying to escape from Venba but everyone saw him in such situations. Akhil asks him why didn't he informed anything to family members about it? Bharathi says that no one would have believed him. Akhil asks him Does he really take DNA test? He phones the lab technician to prove him.
Akhil asks him to share this matter to family members. Bharathi says that he will talk with them after the result come. Akhil assures him that he is with her. Venba tries to mess with Kannamma but she give a fitting reply to her.
In the upcoming episode viewers will see; Kannamma will humiliate Venba in front of Shanthi. Later, Bharathi goes to meet Hema in school. Her ignorance will hurt Bharathi.
Hema will complaint about Bharathi to Lakshmi. Lakshmi will warn Bharathi to don't try to disturb Hema. Bharathi will get hurt to see them avoiding him.
What will happen next?
When will Bharathi accept Kannamma?
When will Venba's truth come out?
The upcoming episode will answer all our questions and stay in tune with our space for more updates