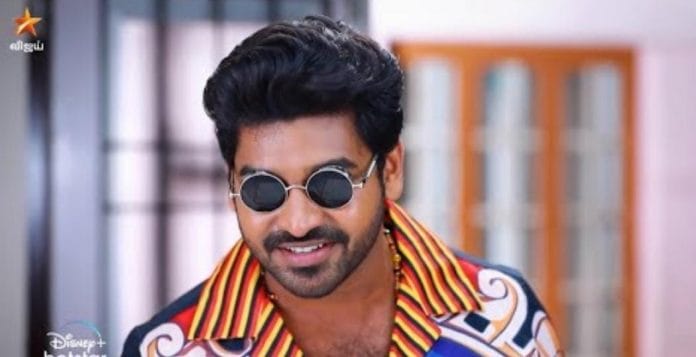 Bharathi kannamma Upcoming Story, Spoilers, Latest Gossip, Future Story, Latest News and Upcoming Twist, on TellyExpress.com
Bharathi kannamma is famous Vijay tv show. This show revealing truth one by one to entertain its audience. Now serial concentrating on Rohith to save Venba!
In Today's episode we see; Venba pretends like innocent in front of Sharmila. Sharmila shares to her that she find out the reason why did groom refused to marry her? Venba says that all groom gonna rejects her she don't wanna see her mom getting insult in front of all. Stop searching groom for her. Sharmila says that she has no problem at all. She already fixed one groom he will meet her in evening. Venba adds that she is pretty tired so she will meet him tomorrow. Sharmila is adamant in her decision. Shanthi enquires her how will she stop this alliance? Venba says that she gonna attack him.
Later Lakshmi and Hema are discussing about speech contest. Lakshmi asks her Is she invited Kannamma for it? She feels emotional when did she forgot it? Kannamma comes there and praises her dress. Hema cries and apologized to her for not inviting her? Kannamma consoles her. Hema thinks Kannamma may ready to marry her father that's why she is mentioning Lakshmi as her sister. Soundarya comes there learns from her what happened there? Soundarya asks to Kannamma will Bharathi attend this function? She says no idea at all. Hema assures to them dad will definitely attend the function.
In the upcoming episode viewers will see; Hema will announce to all that she need a mother. She would like to mention Kannamma as her mother reasoning she don't have mother likewise Lakshmi has no father. Bharathi will glare Kannamma hearing it. Rohith will save Venba from goons. Sharmila will introduce Rohith as Venba's fiance
What will happen next? Will Bharathi accept Kannamma back? When will Venba's truth come out?
Upcoming episode will answer to our all questions stay tune with our space for more updates.