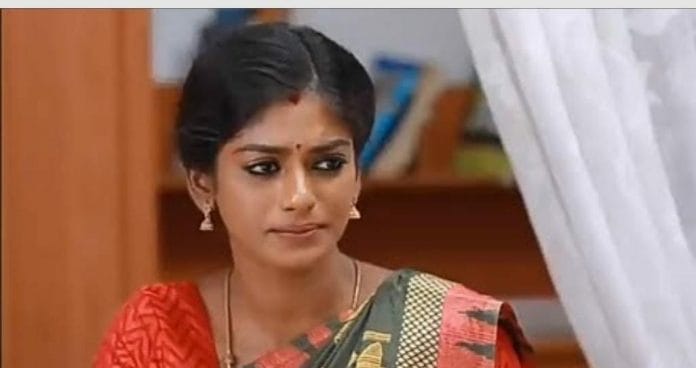 Bharathi kannamma Upcoming Story, Spoilers, Latest Gossip, Future Story, Latest News and Upcoming Twist, on TellyExpress.com
Vijay TV's popular show Bharathi Kannamma never fails to entertain it's audience with its interesting story line. serial brings a major twist by revealing Hema's birth truth to Bharathi. Now serial focusing on Kannamma to stay with Soundarya
In Today's episode we see; Venba waiting for her test result. Shanthi questions her why is she looking so tensed? Venba shares with her that she gave pregnancy test in lab she is waiting for it result. She fears that mom will reach here before it. Venba collects her report and gets shocked to see the result is positive.
Meanwhile, Soundarya takes Bharathi to home. Kannamma about to leave from there but Soundarya stopped her. She requests Kannamma to stay in her house reasoning it's a rebirth to everyone. Kannamma refuses to stay there reasoning she has many works to do in home.
Lakshmi pleads with Kannamma to stay there. Soundarya asks Mallika to take dhriti to them. Bharathi adds that it unnecessary. Soundarya shares with them it's a rebirth to everyone here. After the rituals she takes everyone inside.
In the upcoming episode viewers will see; Soundarya will request Kannamma to stay with her. Kannamma will refused to stay there. Hema pleads with Kannamma.
Kannamma agreed to stay there. Meanwhile, Rohith will celebrate the Terrorist death. Venba will hide her pregnancy from Rohith. Hema has a nightmare. Soundarya will appreciate Lakshmi and Hema's bond. Kannamma will reveal to her that Lakshmi learnt the truth.
What will happen next? When will Bharathi save hostages from Terrorist? Whom will Save Hostages?
Upcoming episode will answer to our all questions stay tune with our space for more updates.