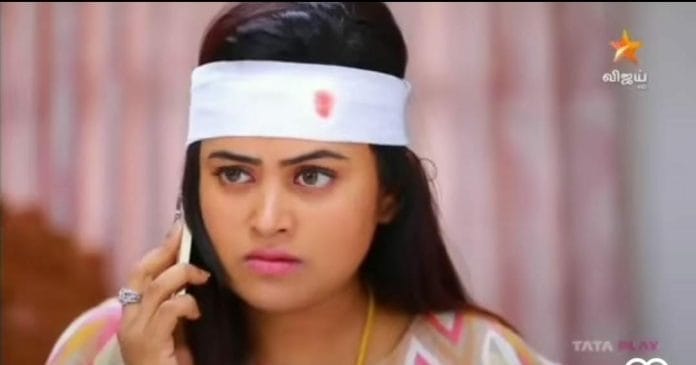 Bharathi kannamma Upcoming Story, Spoilers, Latest Gossip, Future Story, Latest News and Upcoming Twist, on TellyExpress.com
Vijay TV's popular show Bharathi Kannamma never fails to entertain it's audience with its interesting story line. serial brings a major twist by taking DNA test to Bharathi and Lakshmi. Now series focuses on Kannamma to alert Soundarya
In Today's episode we see: Lakshmi searching for Hema in her home and neighbours house. She cries when Hema went missing. Meanwhile, The Nurse informs Kannamma that Bharathi came to hospital and cancelled all his appointment for three days.
Kannamma doubts why did he took leave for three days out of the blue. Lakshmi calls Kannamma and informs her that Hema is missing in home. Kannamma asks her doesn't she asked her to take care of her. Lakshmi says to her that she was watching TV with her. But she went missing when she fall asleep.
Kannamma asks her to check her in nearby stores. Lakshmi assures her that she is not there. Lakshmi tells her that Hema asked her to mention who is her father. She refused to answer her. But she demanded her to swear on her.
She reveals her that she is aware who is their father but she won't say it to her. Kannamma asks her why did she said like that? Lakshmi adds that she doesn't have any other option. She asked her to find who is her father in her own? She thinks that Hema went to search for him.
Kannamma asks her to don't cry. Lakshmi adds that she went missing because of her. She would have left to search for her father. Kannamma doubts where is Hema. Later, Kannamma starts searching for Hema.
In the upcoming episode viewers will see: Goons will kidnap Hema. Kannamma will find Hema's slippers on road. She will Soundarya it's Hema's slippers.
Later, Hema will plead with the goons to leave her. Goons will ask Venba what to do with Hema? She will order them to kill her. One of the goon suggest him to sell Hema. They will get more money in return. They will shift Hema to another place. Kannamma will feel that Hema is in danger.
What will happen next? When will Bharathi accept Kannamma? When will Venba's truth come out?
The upcoming episode will answer all our questions and stay in tune with our space for more updates