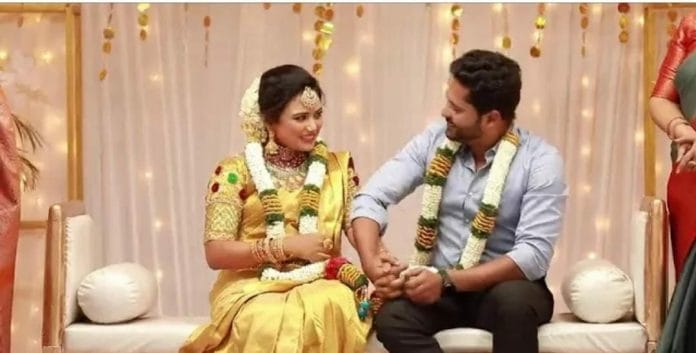 Bharathi kannamma Upcoming Story, Spoilers, Latest Gossip, Future Story, Latest News and Upcoming Twist, on TellyExpress.com
Vijay TV's popular show Bharathi Kannamma never fails to entertain it's audience with its interesting story line. serial brings a majort twist by revealing Hema's birth trurh to Bharathi. Now serial focusing on Sharmila to warn Venba
In Today's episode we see; Sharmila welcomes Soundarya's family. Soundarya enquires Sharmila Is decorators done the works well? Sharmila assures her that everything is perfect. She adds that Soundarya helped her a lot to arrange everything in function. She thank her a lot.
Soundarya tells her that Venba is like her own daughter she is not considering her like outsider. She is Bharathi's close friend too. Sharmila welcomes Akhil and Anjali too. Kids gets excited seeing Kannamma there.
Sharmila tells her she is mentioning Rohith as her brother so it's her duty to do all the rituals to him behalf of a sister. Kannamma assures to her she will do it all because it's her family function.
Sharmila tells her that everyone making her happy by considering this as their family function. Sharmila goes to check Venba. Soundarya learns Kannamma that Bharathi is still in hospital. He will join with them later. Kids goes to play there. Later Bharathi reaches there and gets disappointed to see Lakshmi with Hema.
In the upcoming episode viewers will see; Venba and Rohith will greets the guest in their engagement function. Venba will stop the priest to perform the function. She will announce to all that she don't wanna marry a orphan.
Sharmila will lashes out at her. Venba will say to all that she needs a wealthy person to marry. Soundarya will ask Venba Is money matter to her? Will he marry a wealthy person? Venba will nod to her.
What will happen next? Will Venba agree to marry Rohith? Will Soundarya stop Venba?
Upcoming episode will answer to our all questions stay tune with our space for more updates.