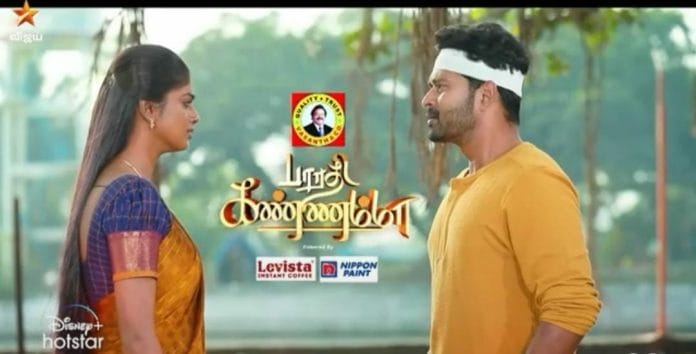 Bharathi Kannamma Upcoming Story, Spoilers, Latest Gossip, Future Story, Latest News and Upcoming Twist, on TellyExpress.com
Vijay TV's popular show Bharathi Kannamma never fails to entertain it's audience with its interesting story line. Now series focuses on Bharathi regain his memory
In the previous episode we saw; Soundarya met Kannamma to take her help. She requested her to help Bharathi to regain his memory. Her daughters requested Kannamma to accept Soundarya's request. Kannamma agreed to help them for Bharathi's sake.
Meanwhile, Tamarai advised Kannamma to change her appearance. She refused to change her dress. Tamarai forced her to wear the dress which she wore in her first meeting with Bharathi. Later, Bharathi attended the Vilakku pooja. He got a flashes of Kannamma.
In the upcoming episode viewers will see; Bharathi will stop Kannamma. He will share with Kannamma that he regain his memory. He will recognise Kannamma as his love. But Bharathi will faint down. He will forgot everything.
Later, Kannamma will narrate the situation with Tamarai. The doctor will advise Soundarya to recreate the old incidents to help Bharathi regain his memory.
Later, Kannamma will sing " Bharathi Kadhaliye song" Bharathi will recognise her voice. He will collapse when he encounter with Kannamma
What will happen next? When will Kannamma accept Bharathi?
When will Kannamma forgive Bharathi?
The upcoming episode will answer all our questions and stay in tune with our space for more update