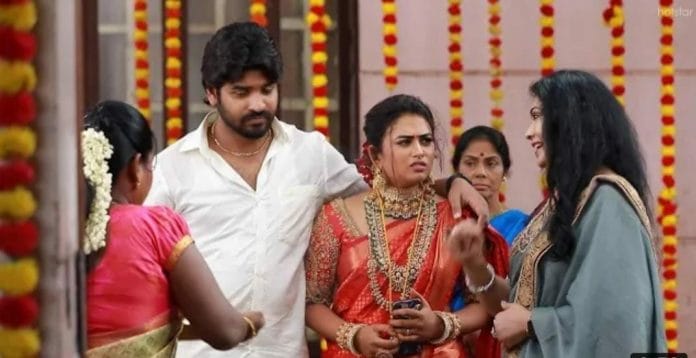 Bharathi kannamma Upcoming Story, Spoilers, Latest Gossip, Future Story, Latest News and Upcoming Twist, on TellyExpress.com
Vijay TV's popular show Bharathi Kannamma never fails to entertain it's audience with its interesting story line. serial brings a major twist by taking DNA test to Bharathi and Lakshmi. Now series focuses on Rohith married to Venba
In Today's episode we see; Venba sharing to Sharmila that she won't marry Rohith. Rohith asks her what happened? Venba says to Rohith that she don't like him. She don't want to marry him.
Sharmila complaints to Venba that she doesn't have any rights to stop this wedding after she did this much. Doesn't Rohith agree to marry her even after this much happened? She wants to marry him at any cost. Sharmila forces her to put garland on his neck.
Priest suggests him to marry her asap or else someone else will stop this wedding again. He chants the mantras. Rohith marry Venba. Sharmila blessed them.
Later, Soundarya shares with Kannamma that she never expected him to take such foolish step to marry Venba. She doesn't know where did he lost his sense? Venu tells her that he is ashamed to mention himself as his son. Later, Hema cries thinking about Bharathi's betrayal
In the upcoming episode viewers will see; Hema will share with Lakshmi that she is an orphan. Lakshmi will decide to confess the truth to Hema. But Soundary will stop Lakshmi from revealing the truth to Hema.
Later, Sharmila will inform Rohith that she shared her 60% of her shares on his name. If Venba tries to divorce him then she won't get single penny from this amount. Venba will get shock to hear it.
What will happen next?
When will Bharathi accept Kannamma?
When will Venba's truth come out?
The upcoming episode will answer all our questions and stay in tune with our space for more updates