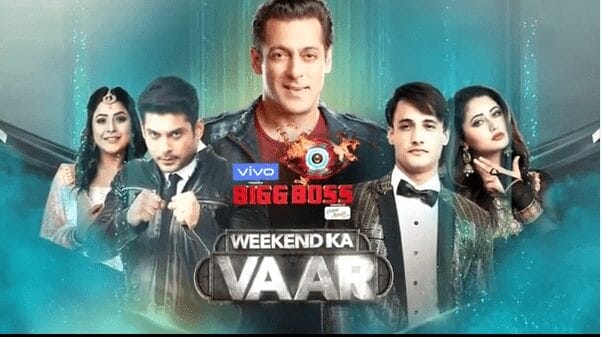 Today's episode opens with Salman Khan entering the stage on the beat of (chandi ki daal par sona ka mor) song. He welcomes the audiences and says this week was a blast and contestants intentionally or unintentionally does anything.
Salman Khan meets the contestants and tells them that he is in bad mood today. He lashes out at contestant and asks Rashmi to say what she wants to says. Rashmi says to Salman that she does not like the aggression in the house. To which Salman replies he is tired of making contestants understand on the aggression point. Rashmi continues telling to Salman whatever happened in the whole week. After talking with Rashmi, Salman ask Mahira to tell what happened when Rashmi made the doll. Mahira tells to Salman Khan and Rashmi interrupts and tries to explain her point of view.
Salman further talks with Shehnaz and Bhau. Bhau accuses Shehnaz for being fake 6 day a week and becoming a child when Saturday comes. Shukla defends Shehnaz. Ahead, Visha, Bhau talks about Shukla's aggression and Salman says he can't waste his breath on Shukla if he does not understand.
Afterwards, Salman khan gets angry on the contestants and asks them if they play the game outside like the way they are aggressively playing in the house. He calls them idiots. He lashes out at the contestants and scolds them.
Later, Salman reveals Arhaan has a child too to Rashmi. Rashmi gets teary. Arhaan accepts that he has kid too and tries to explain his point of view. Salman says to Rashmi that he is just safe guarding her interest. Arti tries to interrupt but Rashmi ask her not. Salman further ask Rashmi and Arhaan to sit together and sort out their problem. He asks for few minutes break.
Asim says to Arhaan to at least he would have told Rashmi about the child. Ahead, Rashmi questions Arhaan why he didn't told her about the child. Arhaan says he will clear everything after today's episode. Salman Khan comes back and says he opened up Arhaan's matter because he proposed Rashmi on the national TV at Bigg Boss.
Salman warns contestants never to open up about this matter inside the house. He feels bad for Rashmi. Afterwards, Salman highlights and says he thought this season would have been the most hit because all the celebrities but he is disappointed. He further asks Shehnaz, Shukla, Arhaan, Asim, Shefali, Vishal, Himanshi, Bhau and Rashmi to pack their bags and leave the house. Salman says they got their top 4 contestants and ask out Arti, Mahira, Madhurima and Shefali Bagga to stay back. He asks BB to open the main gate and asks the contestants to leave the house.
Back to the stage; Salman Khan welcomes Rani Mukherjee. She talks about her upcoming movie Mardaani2. Ahead, Rani praises Salman. The duo talks with each other on women's safety and other issues. Afterwards, Rani and Salman play the game with each other. Later, Salman too promotes his upcoming movie Dabangg2. Rani bids the adieu.
Shehnaz, Shukla, Arhaan, Asim, Shefali, Vishal, Himanshi, Bhau and Rashmi go towards the main gate. Salman says gate is open and now he doesn't know what next will happen. Contestants discuss among themselves and Shefali and Mahira ask them to say sorry and end the matter. Arhaan says to Rashmi to listen to him once. Rahsmi ask him to give her some time. (Episode Ends)
Precap: Salman Khan enters the house and tries to console Rashmi. He talks with Rashmi and Arhaan. Rashmi hugs and cries her heart out to Salman and says she wants to leave the house. Ahead, Dabangg2 cast comes to promote the movie.