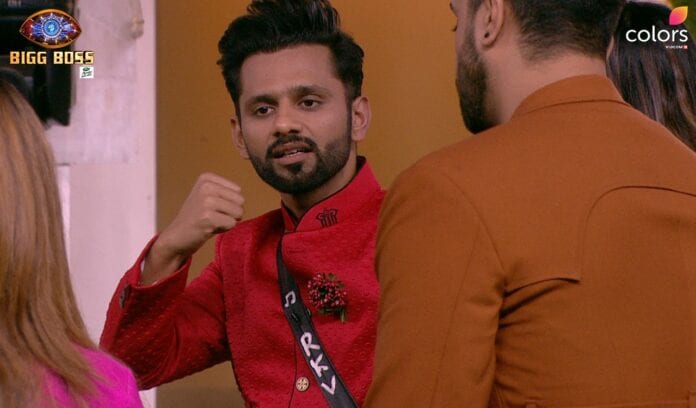 Bigg Boss 14 Live Weekend Ka Vaar 14th February 2021 Written Update on TellyExpress.com
Today's episode opens with Salman Khan entering the stage. He welcome the audience and talk about grand finale. He says today is last weekend ka vaar. Salman says only 6 contenders are inside. He meet contestants next and wish them happy valentine. Salman tell to Rubina that Abhina is in Bankok. Rubina laugh. Salman gets happy for Aly and Jasmin. He next ask Rahul Vadiya, Jaan and Toshi to perform a song. Rahul being the task and sing a song for his valentine Disha. He gets emotional and desire to meet Disha. Rahul urges Salman to call Disha for half an hour. Singer Toshi sing 'Mahi' song for contenders and Salman. Inmates enjoy along with Salman. Salman praise Toshi's voice. Thirdly, Jaan dedicate song to inmate on the occasion of Valentine. He sing 'pyaar dewane hota hai'. Devoleena gets teary hearing Jaan. Jaan sing a song for Toshi. Toshi and Jaan sing 'main tenu samjhawan ki' and 'tum dena saath mera' song. Salman praise Jaan and says he has become strong and mature personality now.
Devoleena also sing song 'Lag ja gale' and talk about her boyfriend. Salman compliment Devoleena and Rahul, Toshi, Jaan for singing fabulously. He next asks Rahul and Aly to bring black rose kept at store room to perform a task. Salman says as per task contestants have to give black rose to the person who hurt them most at the house. Task starts with Aly. Aly gives black rose to Rakhi. Rakhi and Devoleena give black rose to Rubina. Nikki gives to Aly, Rubina to Rakhi and Rahul to Nikki. Later, Salman asks Rahul to sing a song he composed for Aly and Jasmin. Rahul sing 'Aly' song and gave credit to Rubina and Rakhi for contributing words too. Aly and Jasmin dance together. Salman enjoys the performance and praise the lyrics too.
Salman discuss about Rahul and Disha. Ahead, actress Disha Parmar enters the house and meet Rahul. Rahul get over whelmed seeing her. Inmates gets excited for Rahul and Disha too. Rahul asks Disha if she will marry him. Disha says yes, both shares a talk with each other. Disha tell Rahul she missed him a lot. She compliments contenders too. Rahul invites contenders and Salman for his wedding and asks them to come and bless them. Salman asks Disha how she feel when Rahul cries. Disha says she gets upset seeing him. Salman bring sweet for inmates. Afterwards, Rakhi asks Rahul if Ritesh will send her letter. Both shares a talk with each other.
On the stage; Salman promote colors upcoming show 'Dance Dewaane'. He welcome Raghav. Raghav and Salman share a talk. Salman praise Raghav's dance talent. Raghav call Dance Dewaane contender Gunjan Sinha. 6 years old Gunjan amazed Salman with her dancing skills. Gunjan meet contender. Raghav and Salman meet inmate too. Gunjan asks cute questions from inmates. Ahead, Raghav performs a task with Salman and Gunjan. He asks Salman and Gunjan to become judge and asks inmates to dance and impress them. Task starts with Vindu and Rakhi performing on 'dil dance maare' song. Rubina and Jyotika perform no 'bole chudriyan' song. Salman and Gunjan praise Rubina and Jyotika. Gunjan shows her dance moves too. Nikki performs on 'kala chasma' song. Lastly, inmates perform on 'zinghat' song.
Further, Salman perfroms 'balloon pricking' task with inmates. He asks connections to prick misconception balloon. Jasmin pricks of Niki, Aly, Rakhi, Devoleena and Rubina. Jyotika prick of Devoleena. Jaan pricks of Devoleena and Rubina. Paras pricks of Aly and Rahul's. Vindu pricks of Rakhi. Toshi pricks of Nikki's. Salman tell inmates today is last weekend ka vaar. He launch Bigg Boss 14 trophy. Salman next asks connections to meet the contenders and come out from the house. Later, Salman talk about last elimination of the season. He says amid Aly and Devoleena/Eijaz, Devoleena gets evicted.
Rubina, Nikki, Rakhi, Aly and Rahul gets happy being finalist. Ahead, Rubina tells to Rahul that morning only she told Disha will come. Rahul and Rubina shares a talk. Rahul shares his love story with Rubina. (Episode Ends)
Also check: