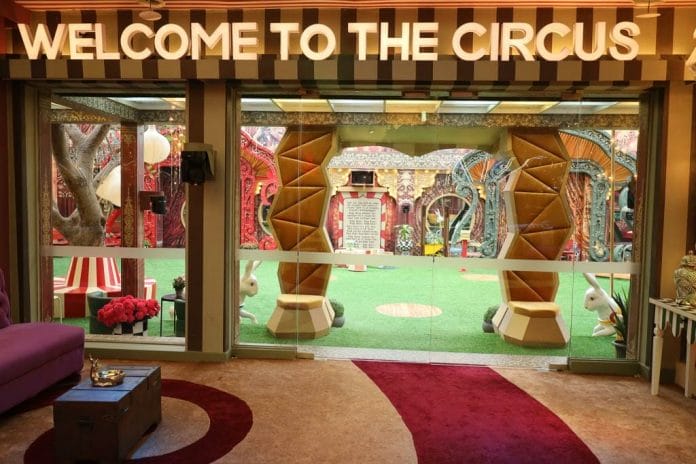 Bigg Boss 16 14th November 2022 Written Update on TellyExpress.com
Today's episode started with Day 44 at 8 AM: inmates gather at garden area to sing Bigg Boss anthem.
8:30 AM: Priyanka asks Archana to give sugar. Archana asks Priyanka to ask Tina as sugar doesn't come under common ration. Priyanka take sugar from Shalin's ration. Archana decide to talk with Tina.
8:45 AM: Archana asks Tina to give sugar as it come under ration. Tina refuses to give. Priyanka says other used common sugar and now hidden their personal one. She asks Tina to give back sugar. Shiv comment on Priyanka
Priyanka says she took sugar from Shalin and will return
Shiv, Nimrit, Tina, Shalin gang upon Priyanka.
Tina and Shiv decide to consume sugar crystal.
Shalin and Soundarya argue with each other over sugar. Shalin asks Soundarya to ask before sugar from his room. Verbal fight between Soundarya and Shalin. Soundarya claim Shalin is trying to befriend her. Shalin decline
Gautam call Shalin fake. Shalin argues with Soundarya and Gautam. Shalin leave the place.
Priyanka asks Shalin to face-off if he has courage. Shalin says to Soundarya, Priyanka that he fear them.
9:30 AM: Soundarya and Priyanka talk about Shalin. Tina comment despite make up Soundarya's name doesn't show up in My Glam.
Later, Soundarya, Nimrit and Sumbul argue in the kitchen over cooking pan cake. Gautam asks Soundarya not to argue for making pancake. Soundarya asks Gautam not to lecture her. Gautam share with Ankit that no one can eat food calmly.
12:15 PM: Sajid get alert from bigg boss for smoking in open. Priyanka and Shalin argue. Ankit asks Priyanka not to argue. Priyanka asks Ankit not to tell her what she should do and not.
3:15 PM: bigg boss gathers inmates in living room.
Bigg boss allows Shalin to take part in captaincy task. Shalin gets happy. Bigg boss talks about captaincy task. He explain captaincy task. Sajid become the tour guide as per the task. He gets an opportunity to choose the captain.
Nimrit asks Sajid to take the contenders from their group. She promise to make him the captain. Sajid agree.
Nimrit, Tina and Shalin make the task strategy. Ankit, Priyanka worry if Sajid will be fair or not.
3:45 PM: Tina, Shalin make the task strategy with Sajid.
4 PM: Priyanka, Archana prdict Sajid will become the captain.
4:15 PM: Sajid and Ankit sit together. Nimrit and Shiv talk with each other. Nimrit says Ankit is seen with Sajid only during tasks.
4:30 PM: Task start; Sajid takes Nimrit and Shalin in the first round for the house tour. Nimrit and Shalin evict Soundarya, Gautam and Priyanka.
Priyanka and Soundarya say it was predictable. Ankit asks Priyanka not to worry as they will fight and win the captaincy and this task is not worth
5 PM: Sajid decide upon taking two more inmates. Nimrit asks Sajid to take Sumbul and Tina. Sajid takes Tina and Sumbul together for the house tour.
Tina and Sumbul evict Archana, Ankit and Abdu. Priyanka and Soundarya say Sajid is playing according to Shiv. Archana gets offended. Priyanka claim Archana want to play from both the team.
Shiv, Stan and Abdu decide to evict Shalin, Nimrit and Tina. Priyanka and Gautam says Sajid is playing a biased game and captain is pre-decided only.
Sajid takes Abdu and Stan for the third round.
Abdu and Stan evicted Shalin, Sumbul and Tina.
6 PM: Tina asks Stan why he evicted her. Stan says he will tell her later.
Sajid takes Ankit and Shiv for the house tour.
6:15 PM: Ankit, Shiv evicted Stan, Nimrit and Shiv.
Sajid become the captain of the house. Shalin and Shiv takes Sajid to the captain room.
Archana claim Sajid was unfair during the task.
Bigg boss bring the twist in the captaincy task. He asks Sajid to shuffle the room.
7:15 PM: Tina gets angry with Sajid for flipping and not supporting her despite the promise.
Sajid tries to defend.
Tina talks with Nirmit and decides to flip from next. She claim Sajid has his own favourite.
Tina talks with Shalin and says she has a problem with Sajid saving Sumbul. Sajid asks Tina not to fuss unnecessary. Tina walks away.
Tina tells to Sumbul that she has a trust ssues with erh and has confronted with others about the same.
Sumbul asks Sajid if he trust her or not. Sajid gave a positive response to Sumbul.
Tina talks with Shalin and says now she will show how a flip is done. She calls Sajid a big time flipper. [Episode Ends]
Also Check: