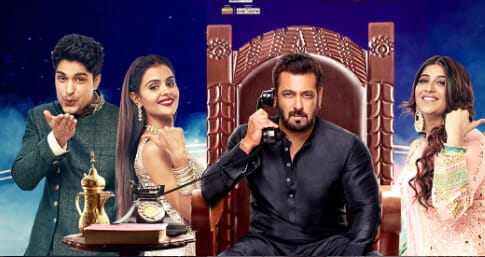 Bigg Boss 16 15th January 2023 Written Update on TellyExpress.com
Today's episode starts with Day 105 at 8 AM; Sajid, Priyanka and Tina discuss about Abdu. Inmates gather to sing bigg boss anthem.
9:15 AM: Tina talks with Nimrit and says there wasn't any backing with Shalin. She says her bond with Shalin just happened. Nimrit agree. She says friendship is needed in the house for emotional support. Tina and Nimrit share a talk.
Tina says to Nimrit that she sometimes feel left out when sits with them
9:30 AM: Sajid asks Archana to correct herlanguage. Soundarya asks Archana to bring sweetness in her voice.
Nimrit, Shalin and Priyanka says Archana will never understand where she is wrong.
Sajid, Tina and Archana talk with each other.
Archana says to Tina that she isn't a same person like before. Tina console Archana
12:45PM; Tina asks Priyanka to ask Shalin if they have to dump chicken or he will eat. Shalin decide to eat chicken.
3:15 PM: Sumbul burp. Stan and Sajid make fun of Sumbul. Sajid asks Sumbul if she will burp in front of her husband. Sumbul says yes. Stan and Sajid laughs.
3:30 PM: Shalin tells to Priyanka that there is no mandala. Shiv and Stan judge Priyanka and Shalin's friendship.
Shalin and Priyanka deal about being captain. Shalin says if he will become captain, he will save her. Priyanka says mandala wants trophy at their side. She adds all will make Shiv win.
Shalin and Priyanka discuss about Soundarya and Sajid.
6:30 PM: Soundarya and Archana discuss with each other. Archana says to Soundarya that all will want to create tiff between their friendships. Soundarya and Archana discuss with each other.
Priyanka says to Shalin that she feel he wants to talk with Tina. Shalin refuses.
8 PM: Archana, Priyanka and Shalin sit together. Archana says to Priyanka and Shalin that she is leaving Soundarya alone so that she isn't blamed. Priyanka and Shalin say Soudnarya is tired. Archana defend Soundarya.
Buzzer ring: inmates gather in the living room. Shekhar Suman roast inmates in his Bigg boss bulletin segment. Inmates enjoy. They praise Shekhar.
Shalin praised Priyanka's dress.
Archana talk with Nimrit and says she liked her father. She tell to Nimrit that her father want her to leave mandali and join her with Soundarya. Nirmit defends her father.
10:15 PM: Priyanka and Soundarya sort their issue. Nimrit and Stan judge Soundarya talking with Priyanka.
Sajid and Sumbul too talk about Soundarya sorting her issue with Priyanka.
11 PM: Shalin shave. Nimrit motivates Shalin. Tina laughs and says to Nimrit that Shalin reminds her about Gautam. Nimrit says to Tina that Shalin isn't close to Gautam.
11:15 PM: Shalin asks Sumbul and Shiv how he is looking in clean shaved. Nimrit confront Soundarya about speaking with Priyanka. Soundarya says Priyanka wanted to talk because of the upcoming nomination.
Sajid and Stan find Priyanka clever.
12:15 AM: Nimrit asks Archana not to misquote her father's statement. Soundarya side Nimrit. Archana gets adamant and says her father talked with her about mandala.
Day 106 6:15 AM: Nimrit talks with Shalin. She says bigg boss journey is tough. Stan asks Priyanka if her workout is done. Stan says he missed. Priyanka says to Stan if he is flirting. Stan laughs.
Archana tries to talk with Stan. Stan refuse to talk with Archana.
Soundarya tell to Sajid that Priyanka is trying to talk with her. Sajid says Priyanka is clever and playing smart. He asks not to get trapped. Soundarya agree with Sajid.
11:15 AM: Stan, Shiv and Priyanka talk with each other. Stan says he don't want to talk with Archana as she will again do fight.
12:30 PM: Sajid and Stan make fun of Sumbul.
1:45 PM: Archana plays with Maahim. Shalin wish Maahim eats Archana's back. Nimrit laughs.
3:15 PM: Shiv reads Basmati Rice task for men of the house. Shiv and Shalin will compete each other.
Archana, Priyanka and Tina will judge the food.
Soudarya helps Shalin. Nimrit helps Shiv. Shiv and Nimrit win the task.
5 PM: Soundarya tells to Shalin that Tina wants to flort with him. Bigg boss asks Soundarya not to talk silently. Shalin refuse to talk with Tina.
Archana and Soundarya discuss about Shalin and Tina. Soundarya claim Shalin and Tina is talking in sign language.
5:45PM: Priyanka and Tina talk with each other. Tina says she isn't bothered about Shalin.
6:15 PM: Shiv and Tina practice dance Nimrit and Sajid laughs on Shiv and Tina. Priyanka teases Shalin.
9 PM: inmates gather in garden area. Ritesh calls back Sajid to start his film shooting. He asks Sajid to come out from the house.
Inmates get shocked. Bigg boss thanks Sajid for his journey in the house. Sajid gets emotional while leaving the house. Inmates get emotional bidding adieu to Sajid.
Sajid promote his upcoming film 100%.
8:30 PM: Archana says it just takes a min for house to shatter. She gets emotional. Nimrit says Shalin and Priyanka doing drama for being sad for Sajid.
Shalin console Nimrit, Shiv, Sumbul and Stan.
Nimrit says to Soundarya that Shalin, Tina and Priyanka are happiest post abdu and Sajid left.
Nimrit tell to Soundarya that Archana will support Priyanka surely.
10:45PM: Shiv and Stan sees Sajid's picture in the garden. Stan wishes for Sajid's movie to hit.
11:30 PM: Shiv tells to Stan that Soudnarya was teary and Archana was singing song.
Shalin tells to Priyanka that Stan, Shiv, Nimrit and Sumbul will form mandali. They talk about the show. [Episode Ends]
Also Check: