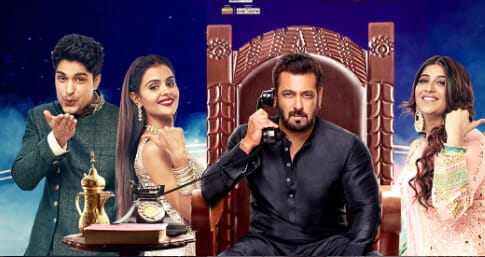 Bigg Boss 16 16th January 2023 Written Update on TellyExpress.com
Today's episode start with Day 107, 8 AM: inmates gather to sing bigg boss anthem.
10:45 AM: Archana plays with Maahim. She asks Maahim if she don't like her. Shalin talk with Priyanka and says without Sajid the house has become empty. He expects Archana leaves the house soon. Priyanka laugh.
11:30 AM: Shiv asks Maahim if she had an affair with someone. He share a talk with Maahim.
1:45PM: Stan, Nimrit, Sajid and Shiv discuss about Sajid. They miss Sajid's presence in the house. Stan tells to Nimrit that Shalin said they are lucky to have mandala.
Soundarya asks Archana what she painted on her face. Archana says inverted question mark.
Bigg boss address inmates. He calls present contenders deserving top 9. Inmates get happy.
Bigg boss tell the inmates about ticket to finale. He asks inmates to destroy Nimrit's captaincy to get ticket to finale. He explains TTFW task. Bigg boss asks Nimrit to read the task once again.
3:45 PM: Tina and Priyanka decide to snatch Nimrit's captaincy. Tina says Nimrit was fortunate to get the captaincy. Stan, Shiv, Sumbul and Nimrit discuss and say now others will come out from the shell.
Shalin, Tina and Priyanka make a plan to snatch Shalin's captaincy.
4 PM: Nimrit allot duties to inmates. Shalin gets offended when Nimrit get carpet area and garden to clean. Nimrit refuse to change Shalin's duty. Shalin says he will not perform the duty and Nimrit will lose the captaincy.
4:30 PM: Nimrit, Sumbul, Shiv and Stan say Shalin and Tina will patch up soon. Priyanka and Tina argues over Shalin.
Archana asks Priyanka and Shalin when they will become captain. Priyanka says to Archana that even she never became captain.
Nimrit says to Shiv and Stan that she will console Tina as Priyanka fought with her.
Shalin and Priyanka discuss about Tina. Shalin decide to call Tina. Tina refuses to call Shalin. Priyanka asks Shalin not to come in between her and Tina.
5:45PM: Tina and Shiv sings a song. Priyanka tells to Tina that she never talks about Shalin but he keeps talking about her. She says Shalin is trying to be cleve.
6 PM: bigg boss explains the nomination task. He asks to choose the 2 contenders. Nimrit gets saved from nomination.
Task start with Sumbul. Sumbul says Tina isn't doing anything in the task. Tina defends herself.
Sumbul next nominate Shalin for being selfish.
Soundarya calls Tina to nominate. Tina and Soundarya argue with each other. Soundarya says to bigg boss that Tina is getting defensive and not letting her perform. She claims Tina and Shalin talks in sign language. Tina defends herself.
Soundarya nominate Shalin.
Shalin claim Soundarya targeted her because of Tina. Priyanka side Tina against Shalin.
Soundarya, Shalin, Tina and Priyanka argue with each other.
Nimrit nominate Shalin and Tina.
Priyanka nominate Sumbul and Soundarya.
Tina nominates Soundarya and Sumbul.
Stan nominates Soundarya and says she isn't playing individually. He nominates Archana for stopping low in the game.
Archana nominate Shiv and MC Stan.
Shiv nominates Archana, Soundarya.
Shalin nominates Archana and Sumbul.
Bigg boss nominate Tina, Shalin, Soundarya and Sumbul.
7 PM: Priyanka laugh on Shalin's behaviour.
7:15 PM: Priyanka clarify Sumbul that she doesn't want involve in the game. Priyanka and Soundarya argues with each other.
Archana says to Shiv that she will not do duty. Shiv and Archana argues with each other.
Priyanka and Tina ask Archana if she found Soundarya's reason reasonable. Tina claim Soundarya wants to be Shalin's good book.
7:30 PM: Tina and Shalin argue with each other over nomination.
7:45 PM: Shalin call Tina manipulative. Priyanka join Shalin and Tina. They discuss about nomination.
8:15 PM: Nimrit asks Soundarya to be listener if Shalin is around as he plays.
Archana, Nimrit discuss about Priyanka, Tina and Shalin. They claim Priyanka isn't allowing Tina and Shalin to patch up.
Shalin asks Tina to let's be cordial with each other. [Episode Ends]
Also Check: