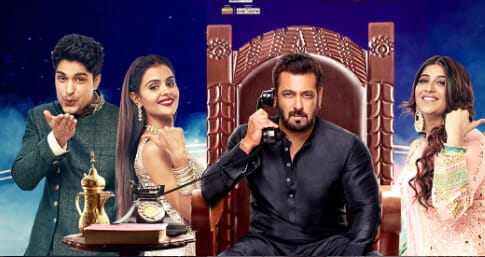 Bigg Boss 16 19th December 2022 Written Update on TellyExpress.com
Today's episode started with Day 79 8 AM: inmates gather to sing bigg boss anthem.
8:45 AM: Shalin praises Sreejita for getting him tea. Sreejita says she brought because he asked. Tina gets jealous and says Shalin is doing drama by praising Sreejita.
Shiv says it will be fun if Stan becomes captain. Stan, Sajid and Nimrit enjoy. Shiv imitates Stan.
Bigg boss plays alarm. Soudnarya asks Archana to wake up. She adds none other than Archana is sleeping.
Sumbul bangs plate to wake up the contenders. Tina asks Vikas to wake up. She asks Sumbul not to bang the plate.
1 PM: Bigg boss says sorry to Shiv, Nimrit and Sajid. He says three of them are not well but Ankit is unnecessarily sleeping. Ankit assures Tina that he will not sleep. Archana says she will be the happiest when Ankit will go out and Priyanka will cry alone.
1:30 PM: Archana shares with Shiv and says when she cries no one supports but Priyanka has Ankit. Shiv says they will plot to throw Ankit out.
1:45 PM: Bigg boss asks Ankit and Priyanka to gather inmates. Priyanka says to Ankit that Archana is feeding Sajid to get the brownie point. Ankit agrees.
Bigg boss explains captaincy task. He says this week too three captains will run the house. Vikas and Soundarya get an opportunity to evict inmates in the task. Left one will replace Abdu.
Task start with Priyanka.
Soundarya decide to evict Ankit and Sumbul. Vikas agree with Soundarya's decision. Sumbul and Ankit are fired from the task.
Task restart; Nimrit asks Vikas to evict Archana, Stan. Tina asks Soundarya to evict Archana and Stan.
Shalin too vote against Archana.
Bigg boss asks Soudnarya and Vikas to use brain instead of just following the recommendation. He re-explains the task
3:45PM: Soundarya and Vikas discuss on evicting the contender. Both fail to mutually decide the name.
Bigg boss asks Soundarya and Vikas to take fast decision. Soundarya and Vikas argue with each other. Bigg boss says since Vikas and Soundarya are taking time thus they are incapable to run the house. He asks inmates to evict one amid Vikas and Soundarya.
Majority vote against Vikas. Vikas gets evicted.
4PM: Shalin, Priyanka, Tina tries to convince Soundarya. Vikas tells to Ankit and Priyanka that Nimrit wanted to evict Stan.
Priyanka gets surprised. Shiv recommends Stan's name. Soundarya evict Priyanka, Tina, Sajid, Shiv, Archana and Shalin. Archana asks Archana to open eye ask Priyanka and Ankit evicted her. Soundarya understands Archana.
4:15 PM: Stan asks Soundarya to make him captain. Soundarya evict Shiv and Nimrit.
Stan, Soundarya and Sreejita become the captain of the house. Shiv, Nimrit, Sajid and Sumbul gets happy for Stan.
Archana, Tina argues with each other post latter tell to Shalin that former refuse to cook chicken. Archana says she is not a servant. Tina calls Archana cheap.
4:45 PM: Nimrit tells to Shiv and Stan that she took Archana and Stan's name.
Soundarya share with Nimrit that she was surprised that Priyanka wants to evict her.
5 PM: Sajid confront Soundarya on evicting him and making Stan captain. Soudnarya says she wanted Stan to be the captain. Sajid gets unconvinced.
Shiv tells to Sajid and Stan that Nimrit wanted to evict Stan. Stan got surprised. Sajid asked Nimrit why she took Stan name. Nimrit says Vikas is trying to wrongly portray her.
5:30 PM: Shiv, Sajid and Stan try to decode Nimrit's game. Nimrit says to Sumbul that Stan didn't take her name n top 5 but she didn't raise the question on his friendship.
Shiv asks Nimrit why she is getting upset over confrontation.
Stan, Sreeejita and Soundarya allot the duties. Priyanka refuse to perform lunch duty.
8:30 PM: Shiv hugs Sreejita.
8:45 PM: Archana talk with Nimrit and Sumbul. She says she will be happiest when Priyanka's groom will be out. Nimrit and Sumbul agree.
Priyanka and Ankit discuss over Vikas, Sreejita and Tina.
10:30 PM: Vikas asks Soundarya to make Archana clean kitchen. Soundarya ignores Archana.
Soundarya and Archana hug each other. Archana says she will tie up with Shiv so that Priyanka never becomes the captain.
11 PM: Stan tells to Sreejita that Tina and Shalin are stealing from captain's room. Tina gets offended and argues with Stan.
Sumbul jumps into a conversation. Tina argues with Sumbul. Sumbul gets offended when Tina drags her father.
12:30 AM: Archana asks Sajid not to support Ankit. Sajid says Ankit is his friend. Shiv, Sumbul, Archana and Soundarya vows to evict Ankit and Priyanka.
1 AM: Shiv and Sreejita talks with each other. [Episode Ends]
Also Check: