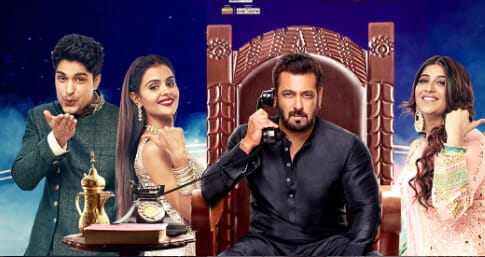 Bigg Boss 16 20th December 2022 Written Update on TellyExpress.com
Today's episode start with Day 80 t 8 AM: inmates gather to sing bigg boss anthem.
Archana gets irked with drill machine and accuse bigg boss for not letting them sleep. Ankit and Priyanka say Archana has lost it. Tina says Archana's sleep is not complete thus she is venting on bigg boss
9:15 AM: Archana asks bigg boss to stop giving them work early morning. She asks bigg boss to pass on her request to head office.
11:30 AM: Vikas and Sreejita discuss about kitchen duty
12:45 PM: Nimrit says Tina and Archana flips. Stan and Shiv says both are confusing audience. They says both are crazy. Stan says he don't understand why Priyanka and Ankit don't accept their relationship
2:15 PM: Priyanka complaint to Sreejita that Archana hasn't cleaned the washroom. Sreejita says Archana will clean next day.
Archana gets ready. Stan asks Archana why she is so decked up. Archana says to nominate Ankit and Priyanka. Nimrit and Shiv gets happy.
2:30 PM: Sreejita asks Archana to clean powder room. Shalin complaint to Soundarya about Archana. Soundarya side Shalin
2:45 PM| Stan asks Sreejita not to talk with him. Soundarya and Sreejita press the buzzer. Bigg boss scolds Sreejita and Soundarya for playing with the buzzer. He gives Stan an opportunity to play during nomination. Stan gets happy.
5:15 PM: Bigg boss asks inmates to gather in the activity area. He explains nomination task. Bigg boss taunts Archana over complaining because her sleep got disturbed.
Task start with Sumbul. Sumbul takes Ankit and Priyanka's name. He says both are playing in group. Sumbul says Ankit is lazy and only follows Priyanka.
5:45 PM: Priyanka takes Sumbul's name and says she don't have any individuality. Archana side Sumbul. Priyanka says Shiv is her another name because he jumps into her conversation.
Shiv and Priyanka argues with each other.
Nimrit nominates Priyanka. She add Ankit don't have any individuality.
Ankit nominate Shiv and Nimrit. He says Nimrit don't have individuality. Nimrit defends herself.
Soundarya says Ankit and Priyanka has hurt her by not supporting in captaincy thus she wants to nominate them.
Sreejita says Vikas has bitched about her for taking behind his back. Vikas calls Sreejita incapable. Sreejita nominates Tina. Sreejita and Vikas argues with each other.
Archana says she wants to send Ankit out because Priyanka is getting his shoulder to cry. Ankit asks Archana to find shoulder.
Priyanka and Ankit say everyone is nominating them and it is best ever.
Archana nominate Vikas and says latter should play his game.
Vikas nominate Archana and Sreejita.
Shalin nominate Archana and says she cross line always. He says she don't have humanity.
Shalin give Sreejita as his second name.
Sajid takes Sreejita and Vikas's name for nomination.
Bigg boss asks Tina to take the name. Tina gives Archana and Sreejita. She says Sreejita is targeting her,
Shiv nominate Vikas and Ankit.
Ankit, Sreejita and Vikas get nominated at the end.
MC Stan is asked to nominate one saved contender. Stan nominates Tina. He says Tina flips. Shalin interrupts. Stan asks Shalin not to interrupt. Stan says Tina flipped and still talking with Shalin.
Stan, Shalin and Tina argue with each other. Priyanka jumps into conversation. Stan calls her shemdi.
Tina says Stan is wearing a mask behind his jewelley. Stan asks Tina not to talk about jewellery else her house will be sold. Shalin interrupt. Stan asks Shalin to shut up. Shalin gets angry. Verbal argument between Shalin and Stan.
Stan gets angry on Shalin for mentioning about her mother in the fight. Shiv, Nimrit tries to control Stan. Stan says he will not spare Shalin. Priyanka, Tina side Shalin.
Stan asks Shalin not to go on his parents. He says he will beat Shalin. Stan asks Shalin if he wants to be in Mumbai or not. Sajid asks Stan to end the fight.
Stan says Shalin will get beaten post he will go out from the house. He adds his fans are seeing. Shalin provokes Stan. Stan asks Shalin not to do acting.
Stan says he will kidnap Shalin
6:45 PM: Shalin says Stan started the fight. Priyanka says to Ankit that all targeted them.
Nimrit, Soundarya asks Stan why he didn't nominate Priyanka is the issue.
Vikas asks Stan to calm. Stan asks Vikas not to jump.
7 PM: Shalin decide to talk with Stan. Nimrit and Shiv asks Shalin to not talk with Stan as of now. Nimrit says to Stan that Shalin is scared. Stan gets adamant to hit Stan. Sajid console Stan.
7:15PM: Nimrit says to Stan that he twisted game by nominating Tina.
Shalin and Vikas discuss about Sajid. Vikas says Sajid is playing in group and saved Shiv.
7:30 PM: Tina talks with Shalin and says Stan gave her reality check. She says she made only two friends in the house and both back stabbed her.
Sajid says to Stan that Shalin didn't abuse his mother specially. Stan disagrees with Stan. Priyanka asks Shalin, Tina why they didn't nominated Sumbul.
Tina says she don't want to put Sumbul against Ankit as she has huge fan following.
Ankit and Priyanka says they both too have huge fan following.
8 PM: Stan complaint to Sajid about supporting Shalin. Sajid defends himself. Stan argues with Sajid.
Tina worries and says they don't have majority. Shalin and Vikas discuss about the game. Vikas says to Shalin and Tina that other team is playing divide and rule.
8:15 PM: Archana, Nimrit and Soundarya make fun of Tina.
1:45 AM: Priyanka share with Ankit and says how she will survive in the game post he will be out. Ankit asks Priyanka not to overthink. [Episode Ends]
Also Check: