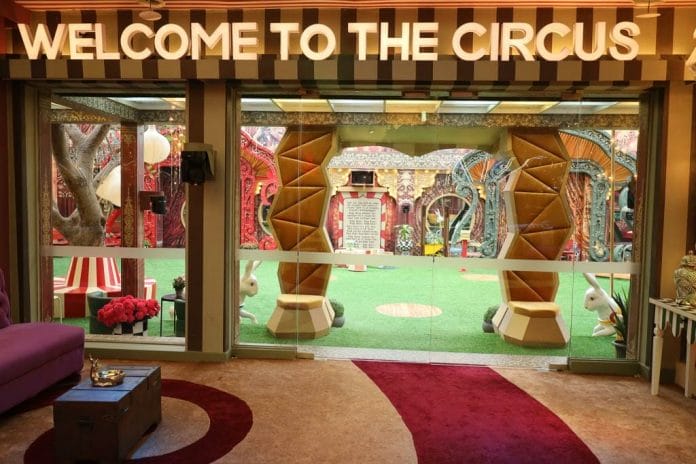 Bigg Boss 16 22nd November 2022 Written Update on TellyExpress.com
Today's episode started with Day 52 at 8 AM: inmates gather to sing bigg boss anthem.
9:15 AM: Tina asks Shiv to give some ration and asks Archana to clean the washroom. Shiv decides to give it other day.
Archana decide to bring out hygiene issue post breakfast. Priyanka, Ankit and Soundarya argues
Archana says room of 4 is dirty. Tina says she cleaned. Archana says to Tina that hygiene is not only about doing makeup. Tina and Archana argues post latter quote none work more than Sumbul.
Tina gets angry on Archana's accusation. Archana gets happy and share with Priyanka. Priyanka happy.
Tina says Sumbul should take a stand as she stayed in the room too. Sumbul sit unresponsive.
Shiv and Nimrit decode Archana triggered Tina on Sumbul's name and is enjoying.
Shalin goes to Tina and says Archana is instigating her on Sumbul's name. Tina confront Sumbul why didn't she told Archana she asked her to clean sofa. Sumbul defends.
10:15 AM: Shalin asks Sumbul why she didn't stood when Archana was accusing. Sumbul says she don't trust Tina over Archana when Shalin asked her. Shalin asked Sumbul why she didn't support Tina. Sumbul says because by supporting them she only received backlash. She decides to stand with the one who will stand for her.
Sumbul confront Shalin why he didn't came to her post she faced repercussion that day. Shalin defends and says he was only carried his friendship. Sumbul and Shalin argues with each other.
Shalin gets irked with Sumbul.
Archana share with Priyanka and says she is happy igniting fight between Sumbul, Tina and Stan.
Shalin tells to Tina that Sumbul don't consider Tina. Tina decides to show game to Sumbul now. Sajid says Sumbul is 19 teen. Tina says than why she came to bigg boss
12 AM: Abdu tries to open chocolate kept in captain room. Stan stops Abdu.
Abdu asks Shiv to give key as he wants chocolates
2PM: Tina tells to Shalin that Sumbul is constantly staring at them. She adds Sumbul is starring as if she snatched Shalin from her. Tina asks Shalin to go to Sumbul. Shalin says he is trapped.
Shalin and Tina argue with each other. Shalin asks Tina not to become Soundarya and Priyanka by repeating same thing. Tina gets angry on Shalin for comparing her to Soundarya and Priyanka.
4:15: Nimrit, Tina and Shiv get an opportunity to nominate the left contenders.
Task start with Shiv. He is asked to nominate one between Priyanka and Archana. Abdu asks Shiv to nominate Priyanka. Priyanka and Archana try to prove their worth in front for Shiv.
Nimrit share with Sajid and says Shiv will nominate Priyanka.
Shiv nominates Archana. Priyanka thanks Shiv
Sajid confront Shiv about saving Priyanka. Nimrit asks the same. Shiv says he did what he felt
5:15 PM: Shalin and Nimrit get punishment by bigg boss for speaking in English
Tina is asked to nominate one between Ankit and Sajid.
Tina nominate Ankit.
6 PM: bigg boss asks Nimrit to choose one between Shalin and Sumbul.
6:15 PM Nimrit nominates Sumbul.
6:30 PM: Shalin asks Nimrit why she told that she doesn't like his most of the habits. Nimrit says because there is disagreement between them
Shiv asks to nominate one between Abdu and Soundarya. Shiv nominates Soundarya.
Archana, Ankit, Soundarya, Sumbul and Stan get nominated.
7:15 PM: Shalin demand a hug from Tina. Tina gives a hug. Shalin asks Tina if he can talk with Sumbul. Tina says she didn't stop him.
Bigg boss says to Tina that she left gas open. Shain runs to close it. Archana talks with Priyanka and Soundarya and says Tina is kitchen queen.
Shalin and Tina argues with each other.
8:15 PM: Shalin and Sumbul talk with each other. Tina says to Nimrit that Shalin and Sumbul was fighting all day.
8:45 PM: Soundarya tells to Ankit, Priyanka about Shiv's interpretation on Abdu's argument. Bigg boss asks Priyanka to wake up Archana. He further asks Priyanka to stand in living area.
Bigg boss tells inmates about Archana telling to Ankit about her party and vote. He punish Archana and ask her to go to each contenders and ask forgiveness.
9PM: Abdu demand chocolate from Shiv. Shiv refuses.
9:15 PM: Bigg boss free Archana from her punishment. Shalin and Tina patch up
9:30 PM: Shiv argues with Archana post latter point out untidiness in his room.
Shiv share with Shalin and says Archana is shouting because he nominated her.
Sajid says to Shiv that Archana irks the captains.
Abdu demand chocolates for him.
11:30 PM: Abdu entertains Sajid, Stan, Nimri and Shiv
12 AM: Archana and Soundarya cleans the kitchen
12:15 AM: Archana fells nausea and claim Tina poured water in coriander leaves. She goes and asks Tina to smell. Tina asks Archana to get out as Nimrit is sleeping. Archana dumps the bin bag in Tina's room. Archana, Tina and Nimrit argues with each other. [Episode Ends]
Also Check: