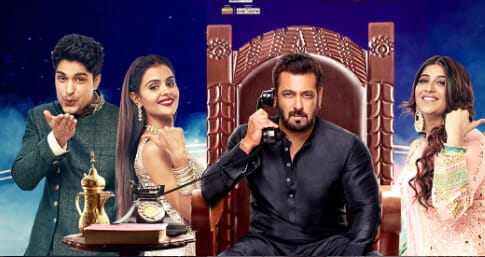 Bigg Boss 16 24th January 2023 Written Update on TellyExpress.com
Today's episode start with Day 114 at 7 PM: bigg boss says time to reset. He addresses inmates about task over Nimrit's captaincy. He explains the task. Inmates are asked to rate Nimrit's captaincy for reset. They are asked to pull out maximum rings to snatch Nimrit's captaincy. Bigg boss asks inmates to take the mutual decision. He asks to take out 10 rings. Bigg boss pulls out one ring for speaking in English.
Tina and Priyanka claim in Nimrit's cpatiancy alarm was ringed. Sumbul, Shiv, Stan support Nimrit over Priyanka and Tina.
Priyanka takes put the ring. She asks mandala to play individually and take ticket to finale seriously. Sumbul puts back the ring. Priyanka argues with mandali. Sumbul asks Priyanka to wait for mutual decision.
Archana claim bathroom duty wasn't performed.
7:15 PM: Shiv asks Priyanka to not shout and discuss. Priyanka asks Shiv not to dictate her. Shiv and Priyanka argues with each other. Sumbul block Priyanka's way. Priyanka asks Sumbul not to touch her.
Nimrit and Priyanka argue with each other.
7:30 PM: Archana asks Nimrit to speak up. Priyanka and Tina fights to take out the ring. Shiv, Stan, Sumbul and Shalin side Nimrit.
7:45 PM: Shiv says he want to discuss with loyalty. Priyanka, Nimrit and Shiv argue with each other. Stan says he can expose Priyanka. Priyanka asks Stan to speak up. Shalin says no one can perform task calmly.
8 PM: Priyanka claim Shalin talked about Shiv's back. Shalin refuse. Priyanka and Stan argue with each other.
Bigg boss says none is interested in Nimrit's report card. He says Nimrit is still captain and TTFW is with her.
8:15 PM: Stan asks Shalin if he talked anything behind their back. Shalin refuse. Tina and Priyanka discuss about Shalin
Shiv gets angry post Priyanka questioned his character. Stan, Shalin, Sumbul and Nimrit support Shiv.
Priyanka and Shiv decide to talk calmly. Stan and Nimrit join the talk. They discuss over the task. Priyanka refuse to talk with Nimrit.
Shiv gets angry on Shalin for discussing their talks with Priyanka and Tina. Shalin asks Shiv to break friendship with him because Priyanka and Tina will not let him live in peace.
Tina and Priyanka says no task will be completed because of mandali. Tina says Nimrit will go high in the game because of favouritism.
8:45PM: Nimrit says Shalin has talked about everyone. Stan says Priyanka is jealous of Nimrit. Nimrit agrees.
Archana talks with Tina and Priyanka. He says if Shiv will get nominated he will explode more.
Stan says Tina was claiming to be his friend. He laughed. Tina asks bigg boss to send chicken soup for her because she had a tooth ache.
9:30 PM: Bigg boss call Archana and Priyanka heartless. He asks why they didn't cooked soup for Tina. Priyanka and Archana decide to cook for Tina.
9:45 PM: Priyanka says to Tina that why she didn't demand chicken soup from them. Tina says chicken belongs to Shalin. Archana says she don't understand how toothache is related to chicken soup. Priyanka decide to talk with Shalin. Shalin gets amazed seeing Priyanka's behaviour.
10 PM: Shalin mocks Priyanka over demanding chicken politely. Shiv and Stan enjoys.
Nimrit raise question that Priyanka didn't had her chapatti. Archana against wasting the food.
12:45AM: Archana confront Priyanka and Tina on chapatti. Priyanka, Archana argues with each other.
Bigg boss asks Tina to meet her doctor but don't ask anything about the show. He asks Tina not to demand anything else she will be considered as the voluntarily exit.
1:30 AM: Tina thanks Bigg boss for calling her doctor. Shalin, Nimrit, Sumbul, Stan and Shiv talk together.
Day 115 at 9 AM: Tina and Priyanka discuss about Shalin's mental condition.
Inmates gather to sing bigg boss anthem.
Tina asks Archana to come and talk. Archana refuse to join Tina and Priyanka.
11 AM: Priyanka and Archana argue with each other over chapatti.
Shiv, Stan, Nimrit, Sumbul and Shalin discuss about Priyanka and Tina.
11:45 AM: Priyanka and Tina comment on Shalin. Nimrit, Stan and Shiv say Priyanka and Tina don't have humanity.
2:45PM: Archana reads poetry for Shalin and Bigg boss. Shalin plays with Maahim. [Episode Ends]
Also Check: