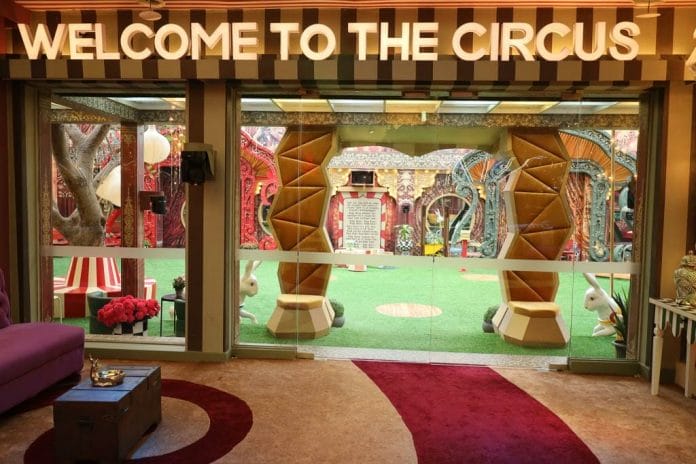 Bigg Boss 16 24th October 2022 Written Update on TellyExpress.com
Today's episode started with Shekhar Sumar saying he wants to know what impact inmates had post Karan Johar left. He meets them and read the poetry. Inmates enjoy and wishes Shekhar a happy Diwali. Shekhar wishes them back.
Shekhar talks about Diwali in Bigg Boss house. He says Diwali is celebrated differently in the Bigg Boss house. Inmates agree with Shekhar. Shekhar comments on inmates based on their so far performance. He likes Abdu and Sajid's friendship. Shekhar teases Tina and Shalin. He asks them not to hide their love.
Shekhar calls Archana powerful. He makes fun of Gori and Archana's fight. Inmates enjoy.
Shekhar next comments on Stan getting happy post cleaning washroom. He jokes on Stan's hair. Shekhar says Sumbul's tear has full the pool. He comments on Sumbul crying more than enough. Shekhar says Bigg Boss eyes have swollen up seeing her tear. Sumbul laughs.
Shekhar comment on Archana's captaincy. He also imitate Archana's voice.
Shekhar talks about Bigg Boss gossip talks. He also highlight about house turning into lovers point.
Host further perform a task with inmates. He asks contenders to give the deserving Diwali gift to the other. Task starts with Gori. Shekhar ask Gori to give the tongue cleaner to whom she feel. Gori gives to Archana.
Gautam give dustbin to Priyanka.
Priyanka gift mirror to Shiv.
Shiv gift mask to Shalin and says he is fake so far. He claim Shalin can go to any extent for the game.
Shekhar gift megaphone to Ankit.
Archana is asked to give brinjal to the deserving contender. Archana gives brinjal to Manya.
Shekhar wishes good luck and bid adieu to the contenders.
Karan Johar re-enters the stage. He decides to spice up the Diwali.
Karan talks about eviction and asks the nominated contenders to raise their hand. Sumbul, Shalin and Manya raise their hand. Karan creates the suspense. He says Manya is evicted. Gori cries for Manya.
Shalin and Sumbul hug each other. Manya gets happy thinking she will celebrate Diwali with her parent. Inmates bid adieu to Manya.
Karan asks Abdu why he is silent today. Abdu talks with Karan.
Karan perform phuski bomb task with Tina and Nimrit. He asks inmates to choose who amid Nimrit and Tina are phuski bomb.
Task started with Priyanka. Priyanka call Nimrit phuski.
Ankit Gupta, Sumbul, Archana, Shalin gives phuski bomb tag to Nimrit.
Gautam, Abdu, Sajid, Stan, Gori and Shiv gives phuski bomb tag to Tina.
Nimrit wins the task against Tina. Tina decide to buck up her game.
Abdu gives the crown to Nimrit. Karan asks Abdu why the house is decorated. Adbu says for Diwali.
Karan shows the fans clip to Abdu as they shower their love for Abdu. Fans wishes Happy Diwali to Abdu.
Karan decides to make Abdu's first Diwali in India special. Sajid explains to Abdu.
Abdu gets a gift from his family. Abdu gets chair and table as a gift.
Karan asks inmates to entertain Abdu and impress him. Sumbul dances to impress Abdu.
Karan and Abdu likes Sumbul's dance. Shalin dance shirtless to impress Abdu. Abdu likes Shalin's performance too.
Priyanka and Archana performs duet dance for Abdu. Next, Gori dances.
Lastly, Shiv and Abdu dances together. Karan gift to inmates send by their family. Inmates get teary seeing the gift.
Karan wishes Happy Diwali to inmates and bid adieu.
Bigg Boss gift special Tajikistan food for Abdu. He asks to share with inmates. Inmates get happy. Abdu thanks Bigg Boss
Soundarya talk with Gautam. She asks him not to get bothered by others. Gautam says he respect other girls. Soundarya complaint to Gautam for not walking to her post the accusation. Sajid join the talk.
Archana, Priyanka and Ankit discuss. They says everyone is trying to make a pair to go ahead in the game.
Archana decide to lecture Gautam. Soundarya discuss with Shalin, Tina and Gautam. She confronts Shalin and says his behaviour towards her was disrespectful. Shalin and Soundarya argue with each other.
Archana talk with Nimrit and says she doesn't understand her own game.
Priyanka talk about MY Glam contest. Priyanka is leading the challenge. Priyanka gets happy.
Archana talk with Soundarya and Gautam. She says to Gautam that he doesn't love Soundarya. Gautam asks Archana to prove. Both argue with each other.
Soundarya complaint to Gautam was hugging Manya. She says he didn't walked up to her post Manya's accusation came into light.
Soundarya and Gautam argue with each other. [Episode Ends]
Also Check: