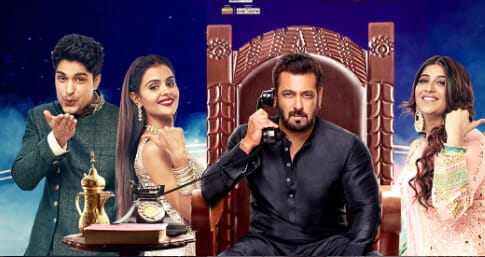 Bigg Boss 16 25th January 2023 Written Update on TellyExpress.com
Today's episode start with Day 115 at 3:30 PM: bgg boss asks MC Stan if he heard the story of thirsty crow. Stan says. Bigg boss talk nomination task. Archana says because of her poetry she missed the make-up. Bigg boss taunts Priyanka and Tina over black and white horse.
Bigg boss explains nomination task. Nimrit is saved from the nomination. Task start with Nimrit. She nominates Tina. She says Tina has a contrasting side. Nimrit adds Tina pokes Shalin despite distancing herself from him.
Nimrit nominate Priyanka. She says Priyanka is a liar and needs support in the game.
Shalin nominate Priyanka and Tina. He calls Priyanka arrogant. Priyanka and Tina defend themselves. Shiv says Priyanka never played alone. He claims Priyanka black heart.
Shalin demands bigg boss to get him out from the activity area. Shiv and Priyanka argues with each other.
Shiv gets angry on Priyanka for raising question on his character. Priyanka argues with Shiv. Shalin walks out from activity area. Nimrit asks Shalin to come back else he will get scolding. Shalin comes back.
Archana nominate Shalin. She says Shalin think girls of the bigg boss house are characterless. Archana says Shalin think he is king of the house. She takes Shiv's name. Archana says Shiv never played alone. She says Shiv takes mandali's support.
Tina nominates Shalin. She says Shalin is doing acting in the reality show. Shalin defend and says he hate Tina. Tina nominates Shiv too.
4 PM: Stan nominates Archana and Tina.
Shiv nominates Archana and says she is strong contenders. He asks Archana to take back the joke if she cracks on other.
Shiv nominates Tina.
4:15 PM: Priyanka nominates Shalin and says he talks about everyone's back.
Priyanka nominates Shiv and says he claim she don't take a stand for girls respect. Shiv and Priyanka argues.
Sumbul nominates Priyanka and Tina. Priyanka and Sumbul agues with each other.
Shalin, Priyanka, Tina and Shiv gets nominated.
Tina claim Shalin is playing victim card. Sumbul breaks down. Nimrit and Shiv console Sumbul. They says Priyanka isn't worth discussion. Shiv and Stan calms Sumbul.
5 PM: Priyanka and Tina share a talk with each other. Priyanka says Shiv took animosity with her.
5:15 PM: Shalin talks with Nimrit, Shiv, Sumbul and Stan. He says Priyanka don't have humanity. They talk about Tina and Priyanka. Priyanka says Shalin got happy post they got nominated.
6:30 PM: Archana talks with Nimrit and Sumbul. She says Shiv claim she is talking with Sumbul because of her popularity.
Tina and Priyanka imitate Shalin. She claim Shalin is wrongly portraying her.
Archana read poetry. Shalin, Shiv, Nirmit and Stan calls Archana spooky.
10:45 PM: Priyanka says to Archana and Tina that she will not clean utensils post blinds are out. Nimrit and Priyanka argue over kitchen duty. Shiv talks with her mandali and says Priyanka is in a mood to fight.
11:15 PM: Nirmit complaint to Archana about siding Priyanka over her. Archana defnds.
12:15 AM: Archana reads poetry. Priyanka and Tina enjoy. Shiv asks Archana, Priyanka and Tina asks to laugh slowly.
12:30 AM: Shalin talks with camera and says Tina made fun of her character by her own. He calls Tina fake and using him for the game.
Day 116 7:45 AM: Shalin says to Priyanka that if she wants to sit than he will leave. Tina and Priyanka do morning prayer.
8 AM: Shalin says he had a sound sleep. Inmates gather to sing bigg boss anthem.
Shalin talk with Shiv and Nimrit about Tina. He says Tina is making fun of her character.
9 AM: Archana blocks Shiv's way. Shiv gets angry. Priyanka jumps into the conversation. Shiv and Priyanka argues with each other.
9:15 AM: Shiv talk with Stan and says Archana is poking him. Archana says Shiv is looking for a reason to fight.
11 AM: Shiv argues with Priyanka and Tina over using bathroom.
11:45 AM: Archana read poetry. Priyanka joins her.
3:45 PM: Shiv and Stan leave the table post Priyanka and Tina sit for the lunch. Priyanka and Tina feels disrespected. [Episode Ends]
Also Check: