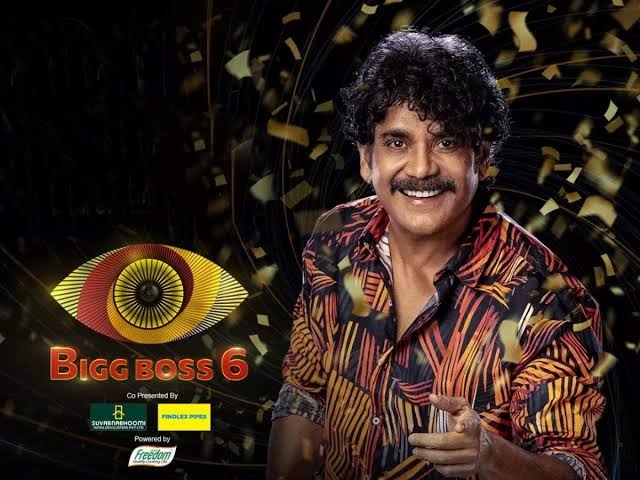 Bigg Boss Telugu 6 18th September 2022 Written Update on TellyExpress.com
The episode starts with Nagarjuna entering the stage with a dance. He welcomes the audience then he says he is going to call a bouncer they all know. He asks Bouncer to come. Tamanaah enters the stage to promote her movie, bubbly bouncer. Nagarjuna asks her to show them the Bubbly bouncer trailer. Tamanaah shows her movie trailer. Nagarjuna says her transformation is shocking them. He asks the audience's opinion. The audience says it's best. Tamanaah requests the audience to watch her movie in the hot star. Nagarjuna asks the audience to watch his movie in the theatre. Nagarjuna tells Tamanaah about the Sunday hamper and sends her inside the house with it.
Nagarjuna tunes to Mana tv. He tells inmates that this week boys are going to get a chance to win the hamper. Lady inmates say it's unfair. Nagarjuna says they will know it soon. He welcomes Tamanaah to the house. Tamanaah enters the house. Inmates feel happy seeing her. Nagarjuna asks ladies and gents to sit separately and this week it's Tamanaah's gift so gents must choose who is their bouncer from the ladies and the reason behind it.
Nagarjuna asks Raj to get bands. He asks Adi to start the game.
Adi chooses Geetu and makes her wear the band and says she saves him from Baladitya in the future.
Baladitya chooses Geetu and says he feels she can save him from Biggboss
Next Arjun says he is confused between Geetu and Sri Satya. Audience shouts hearing Satya's name from Arjun. Audience says something is happening. Nagarjuna asks Arjun to make her wear. Arjun makes Satya wear it and says she can save him from Revanth. Lady from the audience says they can see Arjun's feelings. Arjun says they are just friends. Nagarjuna asks Tamanaah about 100% love. They tease Arjun and Satya saying friendship is base of love.
Srihan chooses Arohi as his bouncer and says he feels she can save him from Arjun.
Revanth chooses Geetu and says she has to save him from herself.
Suryah chooses Aroohi. Nagarjuna teases them. Aroohi says there is nothing in between them. Abhinaya says love is in between them and they can feel it. Nagarjuna asks why he chooses her. Suryah says he choose her to save him from Inaya and Revanth. Nagarjuna asks him to imitate Vijay and Pawan Kalyan. Suryah does it.
Chalaki Chanti chooses Faima and says he chooses her to save him from Raj.
Raj chooses Neha as his bouncer to save him from ragging of Faima.
Nagarjuna asks Rohit to not choose Marina. Rohit chooses Sudeepa as his bouncer to save him from Marina.
Nagarjuna says Geetu got more votes. He asks Tamanaah whom she selected for the gift hamper. Tamanaah says all guys are respecting girls here. Nagarjuna asks her to choose 4. Tamanaah chooses Arjun, Revanth, Rohit, and Suryah.
Nagarjuna asks them to impress Tamanaah. Revanth sings Alakananda song for her. Everyone claps for him. Next Arjun tells how she inspired him. Tamanaah thanks him. Rohit informs Tamanaah that Marina follows her. Nagarjuna says we asked you to impress her but you're giving information. Lady inmates say you don't know he has class in the night if anything goes wrong. Next Suryah impresses her with mimicry. Tamanaah chooses Surya. Nagarjuna asks his lady bouncer to collect it. Arohi takes it and handovers it to Suryah. Tamanaah leaves the house.
Next Nagarjuns asks nominated inmates to hold their dolls to know whether they are safe or not.
Adi, Marina, Rohit, Faima, Abhinaya, Revanth are unsafe
Raj and Geetu are in the safe zone
Nagarjuna asks them to return dolls. He divides inmates as two teams and one team head is Revanth and other team head is Chanti for the Gajibizi Ghana round. During rounds one by one get safe. Everyone enjoys the play. In the last Nagarjuna says it's time for elimination and reveals Abhinaya is eliminated. Abhinaya suggests everyone to play their game. She leaves the house. Neha, Keerthi and Marina, and Revanth make Faima feel better. Abhinaya enters the stage. Nagarjuna makes her see her Av. Then Nagarjuna asks Abhinaya to choose who is honest and who is not. Abhinaya chooses Faima, Chanti, Sri Satya, Baladitya and Suryah are honest people in the house and she chooses Revanth as dishonest. Then she leaves the stage. Nagarjuna asks inmates to remember their promises to him.
Episode ends.
Click to read